Autel MaxiCOM MK808 Full System Diagnostic Tool Global Version with 25 Special Functions incl. IMMO Key Coding
Regular price
$379.99
Sale price
$369.00
Unit price
per
Sale
Sold out
Product Description
    Alternative to Autel MX808
    Supports IMMO Keys Coding.
    Equals MD802+ MaxiCheck Pro.
    Free Shipping from EU, US, no tax needed.
    All System Diagnosis + 25 Special Maintenance Functions.
Original Autel MaxiCOM MK808 7 Inch Diagnostic Tool With 25 Special Functions
Why do you buy Autel MaxiCOM MK808 from HOBDII.COM ?
    Autel Authorized Official Dealer
    Local Warehouse in United States, UK, and EU
    Global version no IP Limit with 1 Year Warranty
AUTEL MaxiCOM MK808 Highlights:
    Supports IMMO Key Coding
    25 Special Service Reset Functions
    Update Online: One Year Free Update Online, 150USD/year for software subscription after 1 year
Multi-Language Supported: English is default language. It also supports German, Spanish, Portuguese, Dutch, French, Italian, Korean, Japanese, Russian, Polish, Swedish, etc.
Easy to Use: Once accessed to the Diagnostics service of MaxiCOM MK808, here are a variety of functions available including oil reset and EPB/BMS/SAS/ DPF service which are used for the safety and efficient maintenance of systems.
Cost-effective: Compared with those at similar price, this automotive diagnostic scanner supports basic IMMO functions and TPMS Service, including displaying sensor IDs from vehicle's ECU, inputting TPMS sensor replacement IDs and registering sensors to vehicle.
 Extensive Coverage: MaxiCOM MK808 works on most 1996 US-based, 2000 EU-based and newer vehicles to do the full systems diagnoses including reading/clearing codes and viewing live data to check the health status of parts.
User-Friendly: This is a tablet diagnostic scanner with 7"touchable screen and enables sensitive response with fast quad-core process; Moreover, with Wi-Fi connection there is no USB or card reader needed for updating software (one-touch updates)
Package List:
1pc x MK808 Android Pad
1pc x USB External Power Adapter
1pc x User Manual
1pc x Quick Reference Guide
1pc x Main cable
1pc x Carry case
1pc x Mini USB Cable

Autel MK808 Scanner Function:
[Full Systems Diagnoses]
Read and erase codes for all available systems using the supported protocols. The tablet type MaxiCOM diagnostic tool is the best way to display live data in text, graph & analog for easy data review
To diagnose Brake System if you feel the brake pedal is mushy and notice unusual odor or noise, etc. A properly operating brake system is critical to ensure safe vehicle control and operation;
To diagnose Emission System if the system is affected by vehicle age or poor quality fuel. A good emission system reduces harmful gases to a large degree and protects you from being fined;
To diagnose Fuel system if vehicle won't start or "Check Engine" light is illuminated. Check car's fuel system regularly ensures the best performance of your car with the lowest emissions;
To diagnose Transmission if your car is slipping or difficult to shift. The system plays an important part in the overall performance of your car;
To diagnose Wiper System if you observe chattering or streaking wiper. If the car is not regularly checked, the accident might happen because you can't see clearly;
To diagnose Light System if you see rapid signal blinking or dimming lights.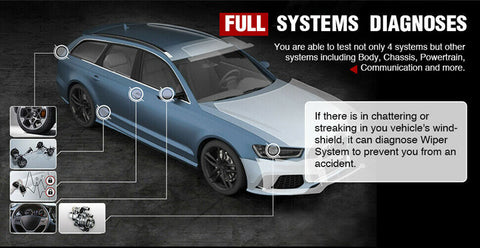 [25 Hot Service Functions]
The diagnostic tool performs 25 service functions that every mechanic wants for various scheduled service and maintenance performances including:
    Oil Reset: Turn off the oil light, and reset the service mileage. So you won't forget to change the oil when it's due.
    EPB: Remind you to reset the brake pad, especially if you have replaced it.
    TPMS: Read TPMS data and point out issues related if there are any.
    BMS: Reset a battery after you have replaced it.
    Brake Bleed: Keep the tires from locking up immediately when there are brakes.
    DPF: Help you clear the blockage in the DPF filter, to meet emission standards.
    Immo Keys: This function is mainly used to disable the lost vehicle keys, and create a new replacement key fob, to protect your car from being stolen.
    Injector: Read injector related problems and adjusts them.
    SAS: Calibrating and resetting the position of the steering is just a click away.
    And Injector coding, Suspension, Throttle, WIN DR ROOF, Seats, Odometer, Lang Change, Headlamp, CHG Tire Zize, TEC Learn, Trans Adaption are all avaiable.
    There are a lot more functions waiting for you to explore.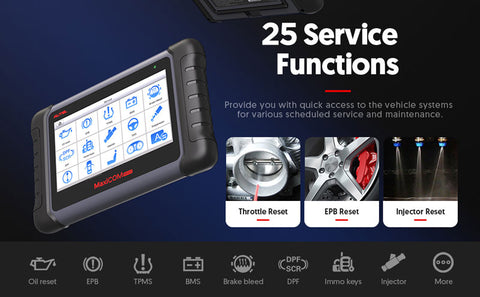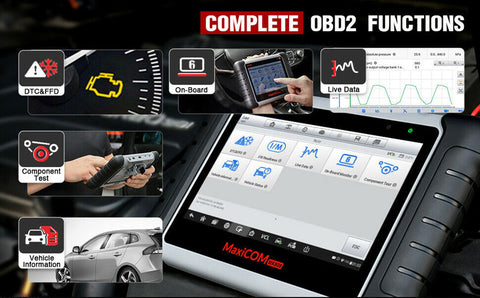 [Global Vehicle Coverage]
Supports many US cars after 1992, EU cars after 2002, Asia cars after 2008
MaxiCOM MK808 Specifications: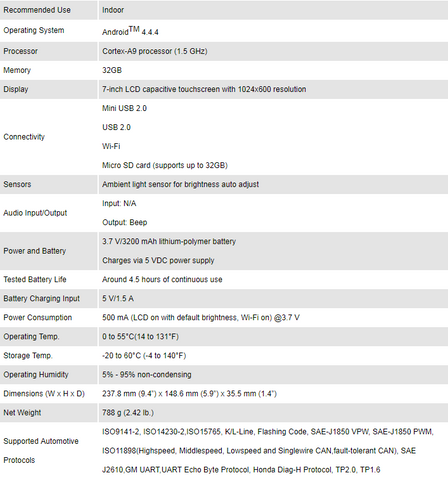 Share