SUMMARY POWERJET GDI S4 Injector Cleaner & Tester Machine Kit Support for 110V/220V Petrol Vehicles Motorcycle 4-Cylinder
Regular price
Sale price
$649.00
Unit price
per
Sale
Sold out
Please note for purchase   :110V/220V 
Product Introduction:
SUMMARY POWERJET GDI S4 injector cleaner & tester uses ultrasonic technology and microprocessor fuel pressure control cleaning and testing technology to quickly remove carbon from the vehicle fuel system, and test leaking, uniformity, inbreath of injectors, so that the injectors can discharge fluid more quickly.
SUMMARY POWERJET GDI S4 injector cleaner & tester fits for most petrol cars and motorcycles injectors, but NOT for diesel injectors. It also can be used for cleaning and testing four injectors at the same time.
 

Product Features:
GDI full support
This equipment supports testing of various GDI injectors, including Bosch, Denso, Delphi, etc. Support long GDI injector detection, such as Mercedes-Benz and BMW.
Resistance test
Support the resistance measurement of the fuel injector to know the performance status of the fuel injector.
Quick disassembly
The special structure design makes the disassembly and assembly of the fuel separator more efficient and quicker.
Small and lightweight
The device is very small and light and easy to move. It is currently the smallest full-function test equipment for GDI injectors.
Strong cleaning
The machine has a strong ultrasonic cleaning ability, which can remove carbon deposits and impurities on the fuel injection nozzle to the greatest extent.
Humanization design
Adopting humanization design can make the system pressure fast restored to the default values.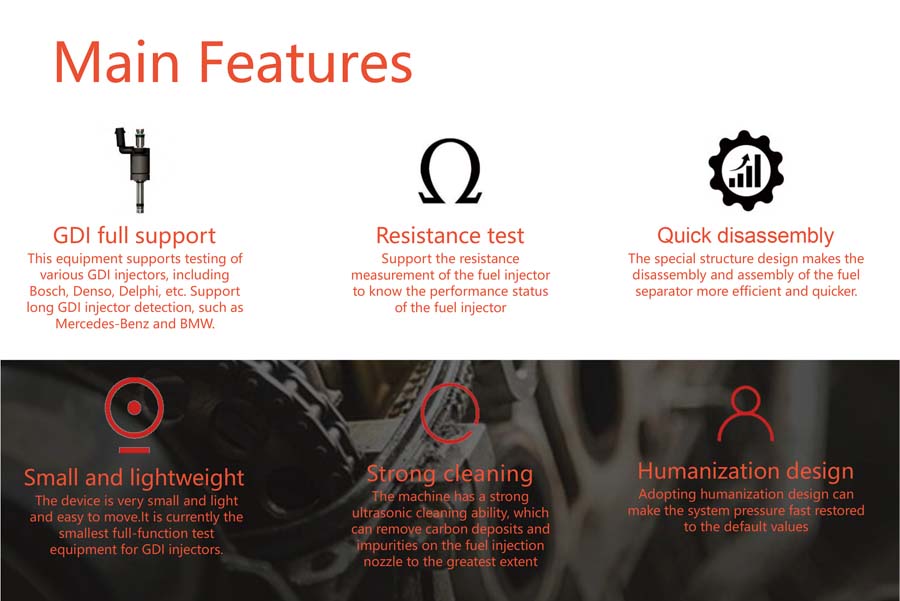 Product Functions:
Supports various GDI injectors  
Injector resistance test
Full test for low resistance injectors  
Side feed injectors support (With Optional Spare parts)
Ultrasonic cleaning
Uniformity & Sprayability test  
Leakage test
Injecting volume test  
Working modes test  
On-Vehicle cleaning
Product Specifications:
| | |
| --- | --- |
| Main unit power supply | AC220V±10% 50Hz/60Hz |
| Input power | 230W |
| Ultrasonic cleaner power | 100W |
| Simulated RPM range | 100~9900rpm, step:10rpm   |
| Time range | 5~300s, step:5s |
| Pulse width | 0.1~25ms,step: 0.1ms |
| Fuel tank capacity | 2000ml |
| Work pressure | 0-7bar |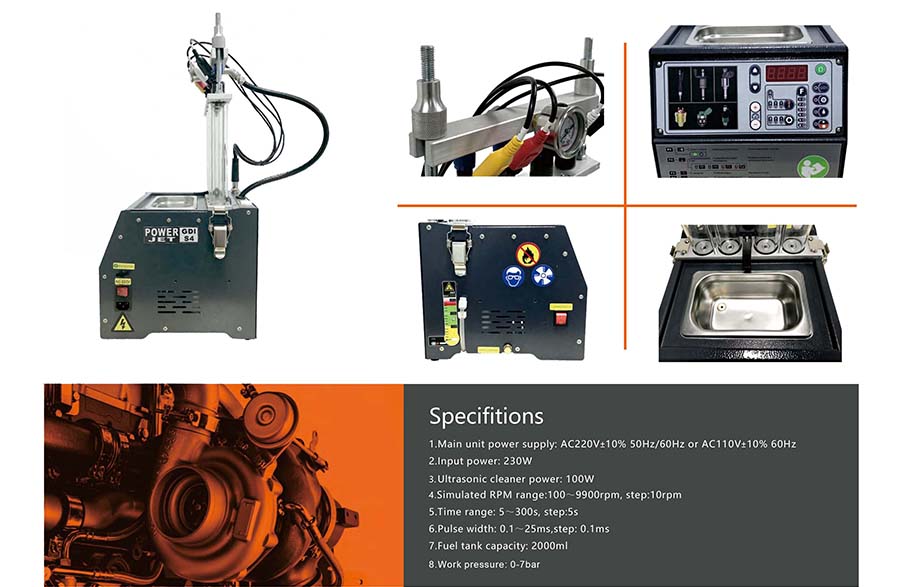 Product Comparison:
Brands
Summary
Autool
Launch
 
 
Summary machine can support all kinds of injector cleaning and testing
Model
PowerJET GDI S4
CT160
CT180
CNC-402
4 cylinder series
size
355*350*380 
340*295*360 
305*345*425
670*500*600
volume
0.047 m3
0.036 m3
0.045 m3
0.201 m3
weight
10KG  
8.5KG
9KG
30KG
Votec injector:

Support low resistance injector (1-2Ω) test and cleaning function
Yes   
No 
No 
No
Support Top-feed fuel injector test & cleaning
Yes   
Yes
Yes
Yes
Top-feed fuel injector:

Support Side-feed fuel injector test & cleaning
(With Optional Spare parts)
Yes( standard configuration does NOT support.)      
 No
No
Yes
Support GDI  fuel injector test & cleaning
Yes   
 No
No
No
Side-feed fuel injector:

Support GM TBI injector test & cleaning
(With Optional Spare parts)
Yes( standard configuration does NOT support.)      
 No
No
No
Support Votec injector test & cleaning
(With Optional Spare parts)
Yes( standard configuration does NOT support.)      
 No
No
No
GDI fuel injector:

Injector resistance  testing function
Yes   
 No
No
No
RPM adjustable range:100~9900rpm,
Yes   
 No
Yes
Yes
GM TBI injector:

Pulse width adjustable : 0.1~25ms,
Yes   
 No
Yes
Yes
Package Includes:
1pc x Main pulse cable
1pc x Fuel separator
1pc x User manual
1pc x Fuel separator stopper
1pc x Lock handwheel
1pc x Power cable
1pc x Pulse signal cable
1pc x Main adaptor
1pc x Vice adaptor
1pc x Injector shims
1pc x Resistance test cable
1pc x O-ring
1pc x GM GDI adaptor
1pc x Universal GDI adaptor 
1pc x Thread GDI adaptor
1pc x Extended pole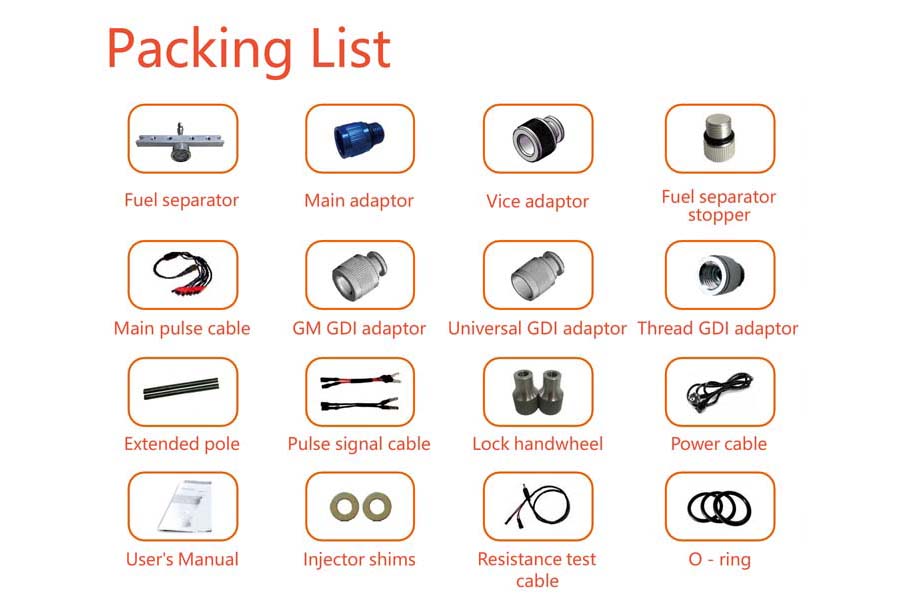 Share