OBDSTAR Airbag Reset Jumper for X300 DP Plus and Odomaster
Out of stock
Many in stock
customers are viewing this product
Frequently bought together
OBDSTAR ODO Master for Odometer Adjustment/Oil Reset/OBDII Functions

OBDSTAR P004 Adapter for ECU Programming Reading or Writing Data in Bench Mode Used with X300 DP Plus/ OdoMaster/ P50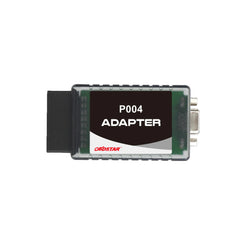 OBDSTAR AIRBAG RESET KIT P004 Adapter + P004 Jumper Working With OBDSTAR X300 DP PLUS/Odo master/P50 for Airbag Reset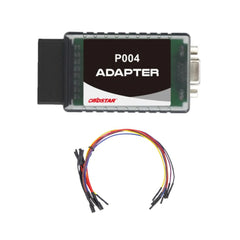 OBDSTAR P50 Airbag Reset Intelligent Airbag Reset Equipment Covers 38 Brands and Over 3000 ECU Part No.
Product Description
Product Description
Used with Odo Master Full, Key Master DP Plus C for Airbag Reset
OBDSTAR P004 Adapter for X300 DP Plus and OdoMaster

Works with Odo Master Full, Key Master DP Plus C for Airbag Reset
Functions
1. supports one-click airbag reset for 38 brands and over 3000 ECU part No.
2. supports fuzzy search for ECU part No.
3. contains clear BENCH mode wiring diagram 
4. contains powerful and complete description files for fault code
5. calculate PinCode
More functions in developing...
Advanced Functions
Ecu Info.

Read DTC

Erase DTC

Read EEPROM

Write EEPROM

Read FLASH

Write FLASH

Erase Crash

Write VIN

...
Coverage
1. Supported Brands(38 Brands)
Acura

Audi

Benz

Buick

Cadillac

Chevrolet

Chrysler

Citroen

Dacia

Dodge

Ford

GMC

GreatWall

Honda

Hyundai

Infiniti

Jaguar

Jeep

KIA

Land Rover

Lincoln

Maserati

Mazda

Mitsubishi

Nissan

Opel

Peugeot

Porsche

Renault

Seat

Skoda

Smart

Subaru

Suzuki

Tesla

Toyota

VW

Volvo 
2. Over 3000 ECU part No.(supporting fuzzy search)
3. MCU types
H8SX

RH850

SPC

XC2XXX

TC2XXX

TMS570

OBDSTAR Jumper Cable can be used to connect with P004 adapter to do airbag reset with X300 DP Plus and Odomaster and P50.

Package Includes:

1pc x jumper cable

Please make sure that you follow below steps:
1/ Download the package from themeforest.net (the file is in zip format)

2/ Extract the file you've just downloaded.

3/ Find this file: ella-3.0.0-sections-ready.zip in the folder Ella Sections Ready 3.0.0, then you just need to upload ella-3.0.0-sections-ready.zip file to your Shopify store.

To save your time and reach our support quickly, please follow below steps:
1/ Create a staff account for us (with Themes permission and Settings permission) http://docs.shopify.com/manual/settings/account/staff-members
2/ Capture screenshot or video for the issue you get.
3/ Specify which template and version you are using.
4/ Describe clearly how to reproduce the issue.
5/ Send all information (staff account, screenshot, video, template name and version, description of the issues, link) to support@halothemes.com
Yes, we will assist you to install the template if needed
Yes, we do. Please send your customisation requests to support@halothemes.com, we will give you our quote. Thank you.
Yes. You can turn on/off the animation in the Setting page.
Yes. You can turn on/off almost any blocks on the page (featured products, slideshow, banners, related products, recent products,...).
Yes, we have a setting for you to switch between these two options: Display on Hover and Display on Click.
The theme package includes theme source, Photoshop design files, sample data and manual guide.
That is not a problem. You just need to modify the width/height ratio in theme settings.