[Multi-language] 2022 Autel Maxisys Ultra Lite Diagnostic Tablet with Advanced VCI ECU Coding Global Version Upgrade of MK908P
Regular price
$3,199.00
Sale price
$2,999.00
Unit price
per
Sale
Sold out
Product Introduction:
The MaxiCOM Ultra Lite provides full functions and on-line repair information needed when diagnosing vehicles, identifying faults and researching repairs. It features a powerful octa-core processor, Android 10.0 OS, 256GB of built-in memory and 12.9-inch TFT-LCD capacitive touch screen for swift diagnoses and optimum viewing. 
As an intelligent diagnostic and information system, MaxiCOM Ultra Lite not only displays the relevant repairs gathered from experienced industry experts, offers dynamic topology module mapping, enhanced AutoSCAN features and intelligent diagnostic options but also provides step-by-step guidance to ensure the repair is done correctly and efficiently. 
The MaxiCOM Ultra Lite has two main components: MaxiCOM Tablet-the central processor and monitor for the system. VCI- the vehicle communication interface. Combined with the enhanced Autel MaxiFlash J2534 ECU programming device, the Ultra-Lite diagnostic tool enables maximize technicians ECU coding and programming ability.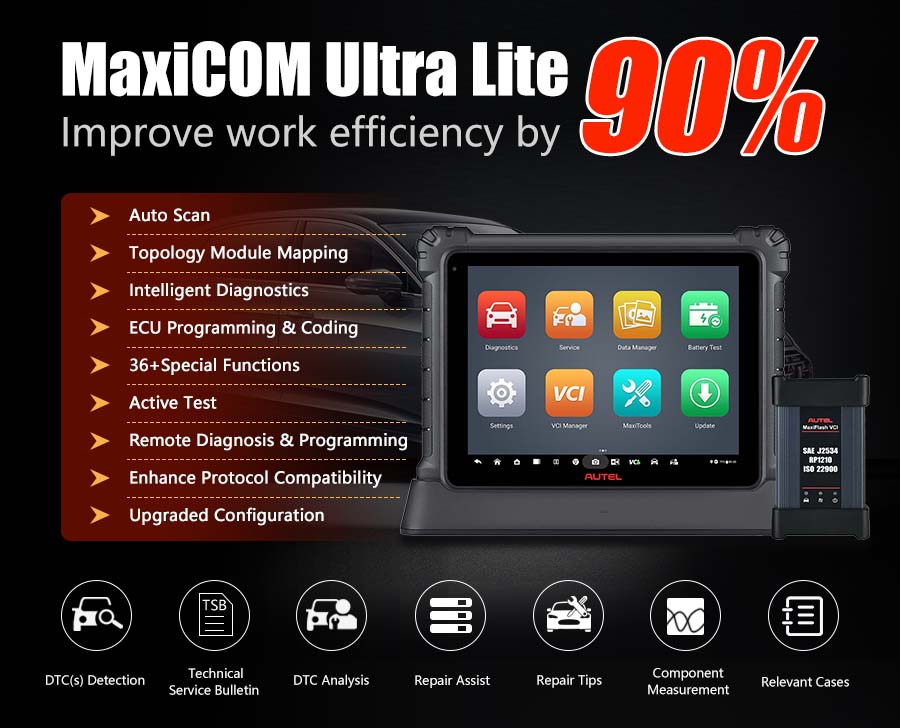 Top 8 Reasons to Choose MaxiCOM Ultra Lite
1. NO IP Limitation, Multi-language: English, French, German, Dutch, Polish, Swedish, Korean, Japanese, Russian, Italian
2. ScanVIN: Barcode or Text Recognition with Camera
3. Upgraded Version of Maxisys MS919, MS909, and Maxisys Elite.
4. 1-Year Free Update Online and One Year Warranty.
5. Split-Screen Multi-Application Navigation with Super Fast Running Speed, Greatly Improving Your Work Efficiency.
6. Multiple Repair Guidance: Technical Service Bulletin (TSB), DTC Analysis, Repair Assist, Repair Tips, Component Measurement, and Relevant Cases
7. Built-in demonstration software gives you the opportunity to quickly learn the operation of our tool on different vehicles.
8. One-Stop Intelligent Diagnosis With Topology Mapping, Helping You Have a Clear Picture of Vehicle Status; For each fault code, Ultra performs in-depth analysis and gives the OE data and processing suggestions.
Product Functions:
Intelligent Diagnoses
1. Vehicle System and Detected DTC(s)– displays the name of the vehicle system(s) and the detected DTC(s)
2. Technical Service Bulletin– contains DTC-related recalls, TSB, and OEM campaigns.
3. DTC Analysis– provides repair assistance information related to the fault code.
4. Repair Assist – intelligently prioritizes DTCs and leads the user to the proper repair.
5. Component Measurement– provides detailed information and instructional guides on using the oscilloscope to test components for faults.
6. Relevant Cases– offers relevant fault-clearing cases for reference.
7. Sput Screen Display–View Multiple Functions AT Once
8. Repair Tips–Intelligent guide
Topology Module Mapping
Single Page Color Coded Module Status Mapping
Autel Ultra Lite automotive scanner can generate a topology map intuitively presenting all module diagnostic results(DTCs status and numbers) in different colors and make you know the communication structure between the modules. This function offers technicians great convenience to locate faults and causes! 
Autel Ultra Lite automotive scan tool with ECU programming or ECU remapping function that allow mechanics and technicians to quickly and efficiently reprogram the ECU to customer or garage specifications, customize car parameters, and replace existing software/firmware in the ECUs to improve the vehicle's overall performance.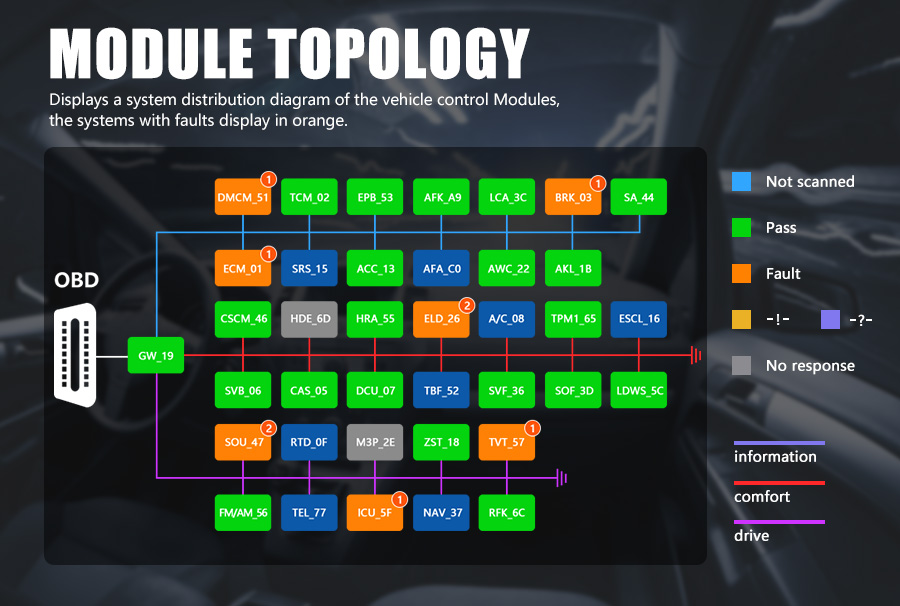 Topology Mapping Tree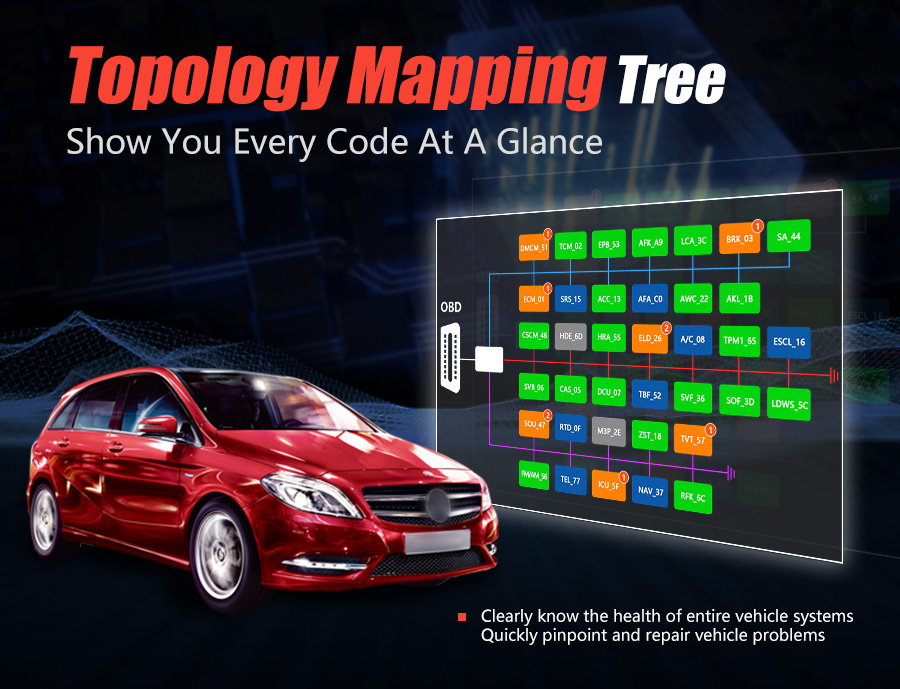 ECU Online Programming: For Benz / BMW ONLY
ECU Offline Programming: For Ford, Mazda, Jaguar, Vaxhall, Opel ONLY
ECU Coding + Adaptations:With enhanced ECU coding function, the Ultra lite diagnostic tool allow you to refresh the hidden features, customize the OE settings and enhance the vehicle performance, fuel efficiency, and reduce power loss.
ECU Coding: Benz, BMW, Audi, Porsche, VW, Nissan, Nissan-GTR, Infiniti, Hyundai
Hidden function renewal: For BMW, VW, Audi, Skoda
Full Bi-directional Control/ Component Test
With the feature of bi-directional control (active test), the scanner Autel Ultra Lite can send commands to the ECUs to activate the a-ctuators to identify the faulty issue by monitoring the operation of actuators.
36+ Maintenance Functions
As the Autel TOP scan tool, MaxiCOM Ultra Lite comes with 36+ service functions and can be updated constantly for wider vehicle coverage, more functions, and functional optimization, to meets all your needs for various scheduled repairs or maintenance.
The maintenance functions are as following: Oil Reset, EPB, TPMS, BMS, Brake Bleed, DPF SCR Aftertreatment, IMMO keys, Injector, SAS, Suspension, Throttle, WIN DR ROOF, Seats, Odometer, Lang change, Headlamp, CHG tire size, TEC learn, ABSSRS, Cylinder, VGT learn, Speed & PTO, Clutch, Trans adaptation, Airbag reset, and A/F Setting.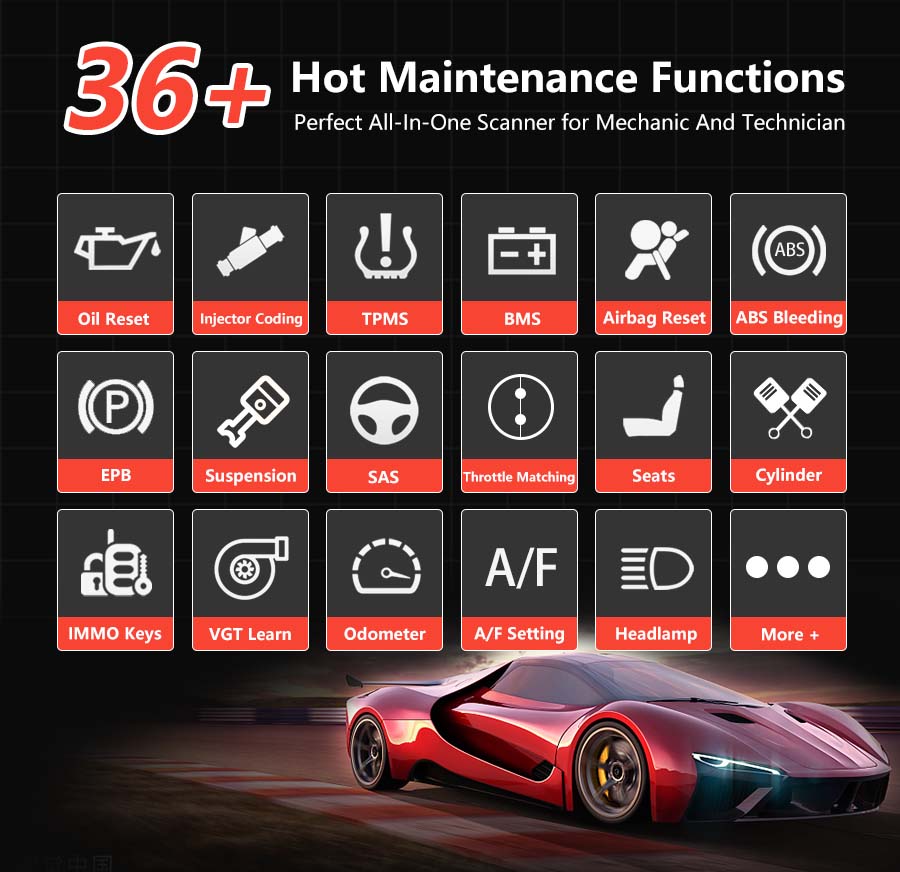 Worldwide and Newer Vehicle Coverage
The MaxiCOM Ultra Lite scanner provides the absolute full range of diagnostics (including read/erase codes, view freeze frame and live data) for any vehicle manufactured in 1996 or later. It doesn't matter if your garage is geared toward domestic, Asian, and European cars—this diagnostic tool's got you covered. Supported vehicle more than 80 manufacturers, 140 brands.
Besides, Autel Ultra Lite scanner supplied with MaxiFlash VCI with Enhanced Protocol Compatibility, which supports D-PDU, RP1210, CANFD. J2534 and DoIP protocols.
D-PDU / J2534 / RP1210 Diagnostic Protocols Cover More Vehicle Types
DoIP / CAN FD Protocols for High-Speed CAN Cover New Vehicle Models
More New Added Functions
1. Remote Expert:
2. Expanded Function, Like add on MV108 videoscope, or Autel battery tester BT506
3. WIFI Printing
Product Specifications:
Operating System
Android 7.0
Processor
Samsung Exynos8895V octa-core Processor (2.3GHz Quad-core Mongoose + 1.7GHz Quad-core A53)
Memory
4GB RAM & 256GB On-board Memory
Display
12.9 inch TFT-LCD with 2732 x 2048 resolution & capacitive touch screen
Connectivity
WiFix2 (802.11 a/b/g/n/ac 2x2 MIMO)
BT v.2.1 + EDR
GPS
USB 2.0 (Two USB HOST Type A, one USB mini device)
HDMI 2.0
SD Card (Support up to 256GB)
Camera
Rear and Front: 16 Megapixel, Autofocus with Flashlight
Sensors
Gravity Accelerometer, Ambient Light Sensor (ALS)
Audio Input/Output
Microphone
Dual Speakers
3-Band 3.5 mm stereo/standard headset jack
Power and Battery
18000mAh 3.8 V lithium-polymer battery
Charging via 12 V AC/DC power supply with the temperature between 0°C and 45°C
Input Voltage
12V/3A Adapter
Operating Temp.
0 to 50°C (32 to 122°F)
Storage Temperature
-20 to 60°C (-4 to 140°F)
Dimensions (WxHxD)
366.5 mm (14.43") x 280.9 mm (11.06") x 34 mm (1.34")
Weight
2.18kg (4.81 lb.)
Protocols
DoIP, PLC J2497, ISO-15765, SAE-J1939, ISO-14229 UDS, SAE-J2411 Single Wire Can (GMLAN), ISO-11898-2, ISO-11898-3, SAE-J2819 (TP20), TP16, ISO-9141, ISO-14230, SAE-J2610 (Chrysler SCI), UART Echo Byte, SAE-J2809 (Honda Diag-H), SAE-J2740 (GM ALDL), SAE-J1567 (CCD BUS), Ford UBP, Nissan DDL UART with Clock, BMW DS2, BMW DS1, SAE J2819 (VAG KW81), KW82, SAE J1708, SAE-J1850 PWM (Ford SCP), SAE-J1850 VPW (GM Class2)
Software and Hardware

Software
Comprehensive diagnostics on 1996 and newer U.S., Asian and European vehicles
Includes advanced MaxiFlash J2534 VCI extra support latest DoIP, D-PDU, CAN FD, RP1210 protocols.
AutoScan: scan all available systems, read/erase codes, view freeze frame, and live data
Comprehensive intelligent OBDII diagnostics & repair assist, Bi-directional control, and advanced ECU coding and programming
AutoVIN/scan VIN for rapid vehicle identification
Extensive Service Menu: quick access to 36+ most common maintenance services
VAG Guided Functions and Built-in Demo App
Perform battery and charging system analysis with additional purchase MaxiBAS BT506 tester.
Cloud-based Reports, Data Management and Remote Expert
Hardware
12.9-inch, 2732 x 2048 resolution, Samsung Exynos8895V Octa-core processor with 256GB storage and Android 7.0 operating system.
Long-lasting 18000mAh rechargeable battery, Convenient Docking Station, 16 MP rear camera and 5 MP front camera
Product Comparison Among Msultra, Ultra Lite, MS919 and MS909

Software Comparison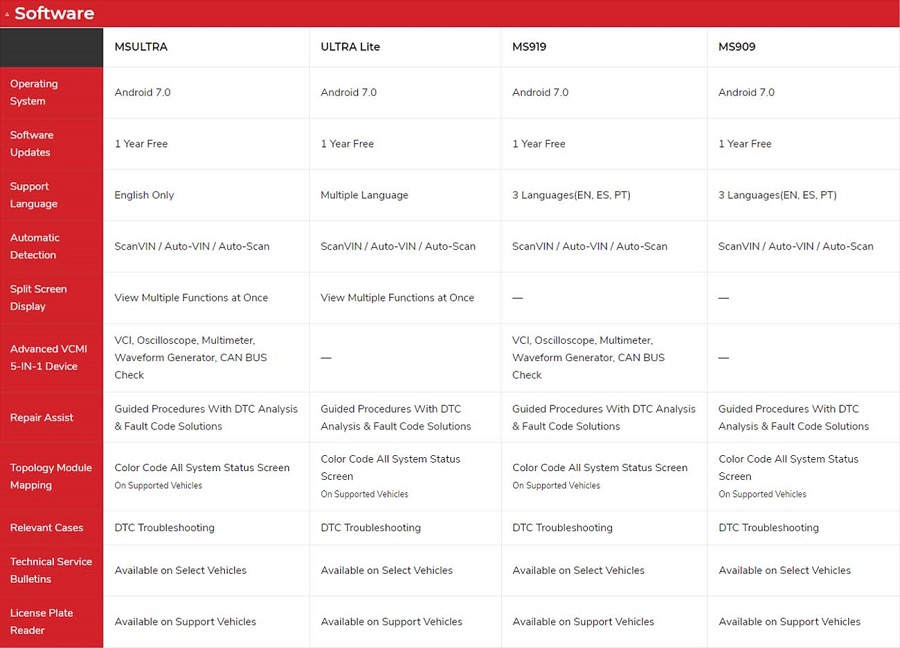 Hardware Comparison

Features Comparison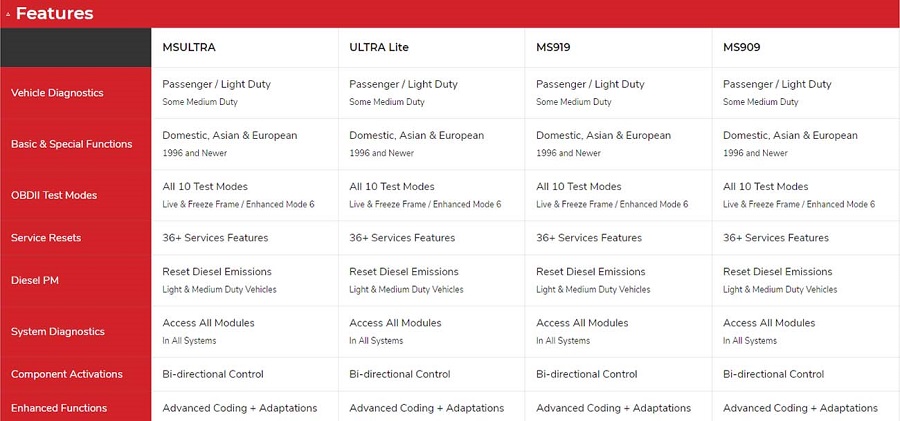 Package Includes:
1pc x MaxiCOM Ultra Lite Main Unit
1pc x MaxiFlash VCI
1pc x Docking Station
1pc x Main Cable V2.0
1pc x USB 2.0 Cable V2
1pc x AC/DC Adapter(12V)
1pc x Auxiliary Power Outlet Adapter
2pcs x Spare Fuse(6x30mm)
1pc x Clamp Cable
1pc x Power Cable
1pc x USB to Enthernet Adapter
1pc x Quick Reference Guide
1pc x Packing List
1pc x Soft Cloth
1pc x Carrying Case (650 x 185 x 430 mm)
Share