[Free Shipping from UK US EU] Xhorse Dolphin II XP005L Key Cutting Machine with Adjustable Touch Screen
Out of stock
Many in stock
Product Description
    1.Support WiFi and Bluetooth
    2.The update version of Xhorse Dolphin XP005
    3.Smart LED indicator, Angle...
customers are viewing this product
Product Description
    1.Support WiFi and Bluetooth
    2.The update version of Xhorse Dolphin XP005
    3.Smart LED indicator, Angle adjustable LCD touch screen

Xhorse Dolphin XP005L Key Cutting Machine with Adjustable Touch Screen
Please click to purchase accessories separately:Protecting mask
Highlights

    With Adjustable Screen and Protective Cover
    Smart LED indicator, Angle adjustable LCD touch screen
    With M5 Clamp, no need to repeated install and uninstall to replace clamps
    A newly-added transparent protective cover can be moved freely to witness the key cutting process clearly at all times, and the working status is clear at a glance.
    Prevent key debris from splashing around, combining cleanliness and safety.
    The workbench is upgraded and lengthened, the working space is expanded and optimized, the stability is enhanced, and the multi-directional safety protection brings you more security.

Xhorse XP-005L Features:
Buit-in database
Support APP Control
Intelligent operating system
Smart LED indicator
Angle adjustable LCD touch screen
Support WiFi and Bluetooth
All-aluminum body structure
High precision ball screw
High rigidity cross rail
Cutter and probe work in parallel
Support Multiple Clamps
Support Sided/Track/Tibbe Key

Package List:
1pc x Xhorse Dolphin XP005L
1pc x Clamp M5 and link stopper
1pc x 1.5mm cutter
1pc x 2.5mm cutter
1pc x Probe
1pc x 2mm+4mm 3mm hexagon bar wrench
1pc x 3mm hexagon bar wrench
1pc x 6mm hexagon bar wrench
1pc x Power adapter
1pc x 1.5m Power cord
1pc x Brush
1pc x Product qualitty certificate
1pc x User manual
Optional M3 Clamp, M4 Clamp

Xhorse Dolphin XP005L vs. Xhorse Dolphin XP-005

Dolphin XP-005L Specification:
Input voltage: 24V DC
Power: 160W
Principal axis rotation speed: 12500rpm
Motor Torque: 0.15Nm
LCD resolution: 1280*720
Working temperature: 10-50°C
Humidity: 10-90%
Machine size: 390mm:220mm*270mm
Package size: 495mm*400mm*360mm
Net weight: 13kg
Gross weight: 18.5kg

Xhorse Dolphin XP005L Details
HD Touch Screen
Users can directly complete operations on the screen. High definition screen minimizes eye fatigue.
The machine adopts an angle-adjustable 5-inch capacitive touch screen. You can set the angle of the screen based on actual needs.

Innovative Colorful Indicator Lights
The indicator light changes color with the change of real-time working status.

Massive Vehicle Database
The built-in powerful database covers over 100 car brands, 2,000 car models, and 20,000 key data. Accurate key data, detailed parameters, and clear key graphics. We provide a lifelong database upgrade service for free.

Portable Solutions
Thanks to its compact design, lightweight, much easier to take it outside and provide users outdoor and roadside services.

Transparent Protective Shield
The transparent shield enables users to check the real-time status while preventing metal debris from spattering.

Manufacture Craftsmanship
All-aluminum body structure, manufactured by German-made DMG CNC machine to guarantee high precision cutting results. The finished keys pass the rigorous testing of the optical instrument.
A wider workbench, strong and steady, make your works more productive. Maintain excellent performance even under extreme weather.

Multi-purpose Clamps
A wide duplication availability guaranteed by a variety of functional clamps, support multiple key types, standard single side, standard double-sided, 2 track external, 4 track external, dimple, channel track, 4 track internal, FO21 and Citroen SX9 keys, residential keys, etc.

Supports Bluetooth and WiFi
Directly upgrade online by wifi
Control the key cutting machine by the Xhorse app on your smartphone or other intelligent terminals via BlueTooth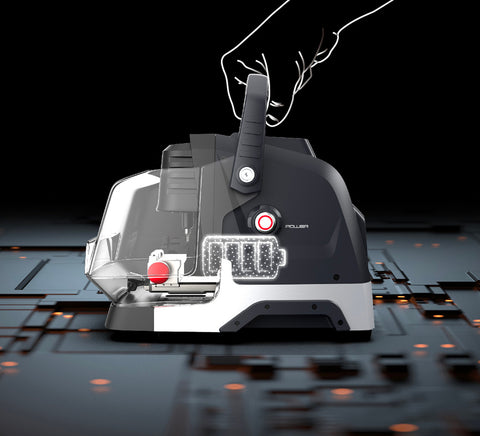 Please make sure that you follow below steps:
1/ Download the package from themeforest.net (the file is in zip format)

2/ Extract the file you've just downloaded.

3/ Find this file: ella-3.0.0-sections-ready.zip in the folder Ella Sections Ready 3.0.0, then you just need to upload ella-3.0.0-sections-ready.zip file to your Shopify store.

To save your time and reach our support quickly, please follow below steps:
1/ Create a staff account for us (with Themes permission and Settings permission) http://docs.shopify.com/manual/settings/account/staff-members
2/ Capture screenshot or video for the issue you get.
3/ Specify which template and version you are using.
4/ Describe clearly how to reproduce the issue.
5/ Send all information (staff account, screenshot, video, template name and version, description of the issues, link) to support@halothemes.com
Yes, we will assist you to install the template if needed
Yes, we do. Please send your customisation requests to support@halothemes.com, we will give you our quote. Thank you.
Yes. You can turn on/off the animation in the Setting page.
Yes. You can turn on/off almost any blocks on the page (featured products, slideshow, banners, related products, recent products,...).
Yes, we have a setting for you to switch between these two options: Display on Hover and Display on Click.
The theme package includes theme source, Photoshop design files, sample data and manual guide.
That is not a problem. You just need to modify the width/height ratio in theme settings.