[EU UK US Ship No Tax] LONSDOR K518ISE Key Programmer Supports VW 4th & 5th IMMO, BMW FEM/BDC, Odometer Correction
Regular price
Sale price
$1,199.00
Unit price
per
Sale
Sold out
Product Description

    1.With Android OS, fast online upgrade.
    2.Supports Immobilization Key Programming, Odometer adjustment, VW 4th&5th IMMO, Free BMW FEM key programming.

Lonsdor K518ISE Key Programmer with Odometer Correction for All Makes

Why do you buy Lonsdor K518ISE from HOBDII ?
    Global Version
    Lifetime Tech Support Online
    LONSDOR official authorized dealer
    Update Online on Official Website, 1 Year Warranty


Lonsdor K518ISE Key Programmer Highlights
1. Immobilization Key Programming
2. Odometer adjustment
3. Built-in Volkswagen 4th & 5th adapter
4. Built-in Chip & remote detection module.
5. Free BMW FEM key programming
6. No Need Token for all cars

Lonsdor K518ISE Package List:
1* Portable Bag(big)
1* Lonsdor K518ISE Main Host
1*Power Adaptor
1*USB Cable
1*Packing Bundle
1*OBD Test Cable
1*Extra Connector
1*User Manual
1*Portable Bag(small)
1*KPROG Adapter
1*RN-01 Board
1*E-01 Board
1*FS-01 Board
1*20P Cable
5*Backup Pin
1*Certificate
Lonsdor LKE Smart Key Emulator 5 in 1 needs to be purchased alone.
Lonsdor K518 Key Programmer Registration & activation

Partner recommendation:

Lonsdor K518ISE Software Latest Update

Add 2018 2019 2020 Toyota 8A all keys lost programming
Add Ford Ranger, Expedition, Explorer, F150, F250, F250, F550 etc smart key till 2019br /> Unlock Toyota 8A H (OEM) smart key (unlock 1 key every day)
Add Nissan Teana (2019-) Smart Key Programming. All Key Lost. No Need PIN Code.
Add Subaru BRZ (2013-) 4D smart key all keys lost programming
Add Land rover Discovery 3 All Keys Lost via LKE smart key emulator generation.



Please check detailed K518ISE function and car list here
Lonsdor K518ISE Immobilization Car List: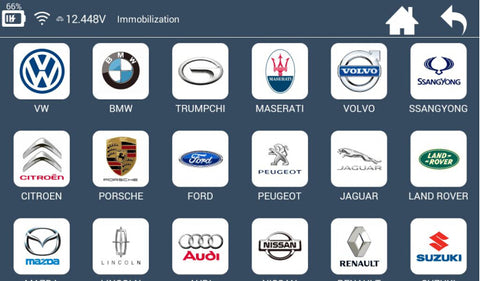 Europe:
Audi, BMW, Benz, VW, Volvo, Citroen, Ferrari, Maserati, Fiat, Lamborghini, Jaguar, MG,
Land Rover, Bentley, Lancia, Opel, Peugeot, Porsche, DS, Renault, Alfa Romeo, Smart,
Borgward

America:
Cadillac, Chevrolet, Dodge, GMC, Buick, Hummer, Ford, JEEP, Lincoln, Mercury

Asia:
Honda, Hyundai, Isuzu, KIA, Lexus, Mazda, Mitsubishi, Nissan, Ssangyong, Subaru, Suzuki,
Toyota, Shigaoka Queen

China:
Iveco, Trumpchi, BYD, Geely, Chery, Great Wall, Young Lotus (Basically all Chinese car
models are included)
Odometer Correction Car List: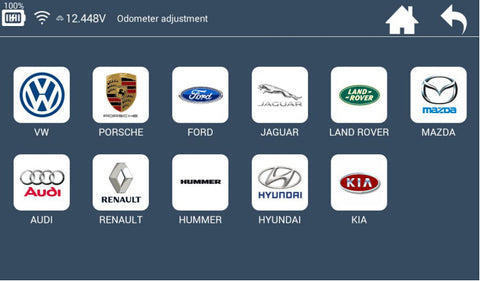 VW, Porsche, Ford, Jaguar, Land Rover, Mazda, Audi, Renault, Hummer, Hyundai, Kia...
Note: more high-end cars will be updated very soon.

Lonsdor K518ISE Key Programmer with so many unprecedented features + built in RFID Transponder Reader / Writer

1st tool to introduce Kia / Hyundai Read PIN code function for Type 46 & 47 keys + Add Smart Key without PIN code;

1st tool to program keys for all Volvo models via OBD

1st tool to introduce Universal Smart Key Emulator shown picture below .

Toyota Smart Key all lost Lamborghini Porsche BMW & LandRover Ferrari Models covered + a whole lot of Chinese made vehicles Great Wall Haval Borgward MG Beiqi Foton as well

Lonsdor K518ISE Key Programmer Connection Diagram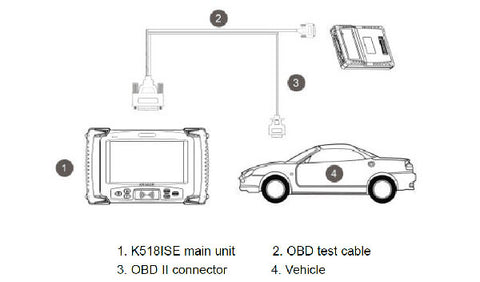 Lonsdor K518ISE Key Programmer Technical Parameter:

RFID: Support 125KHz ASK,134.2KHz FSK
CPU: ARM Cortex-A7 Quad-core Processor Speed 1.34GHz
Display: 1024*600,7 inch IPS capacitive
Memory: eMMC 8G RAM 1G
Battery Capacity: 3800 mAh
Power Supply: DC12V 1A
Power port: 5.5x2.1mm
OBD Port: OBD-II
Comm Port: USB 2.0-type B
OBDII Protocols: ISO15765,ISO9141,ISO14230,SAEJ1850,VW TP1.6 TP2.0 etc
KPROG: Support programming MCU and EEPROM on ECU circuit board.
WIFI Communication Distance: 10m

K518ISE Key Programmer Main Unit Appearance: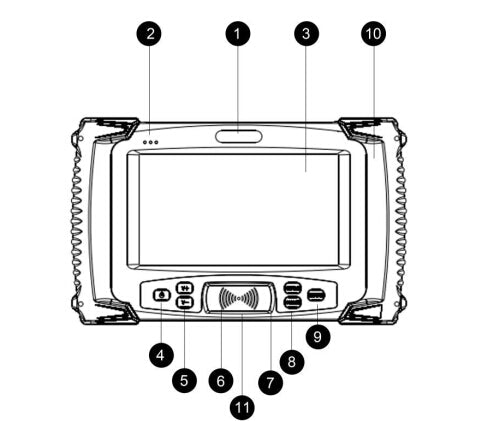 1. Trademark: Lonsdor
2. Three-color indicator in turn will be: red - external power supply; blue - system power; yellow - communication status
3. Capacitive touch screen: display and touch operation function.
4. Switch: press and hold for 3s to start. When in start state, press and hold for 3s to restart or shutdown, for 10s to force to restart.
5. Volume: adjust volume size
6. Key frequency & chip recognition system: place the key on the surface to detect frequency, push the slot shell to the right, and put the key inside to detect chip
7. Setting: enter to set
8. Home: home page interface
9. Return: back to the previous step
10. Built-in antenna: antenna inside
11. Model: K518ISE
12. Screenshot: press the power button and volume down button together
Lonsdor K518ISE Key Programmer Main Interafce: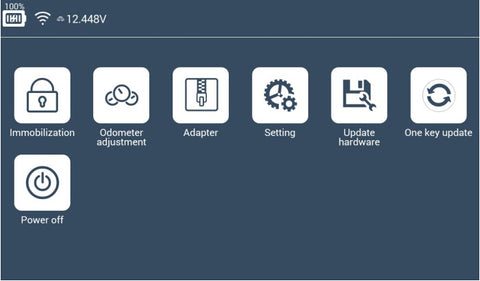 Lonsdor K518 ISE Key Programmer Setting interface: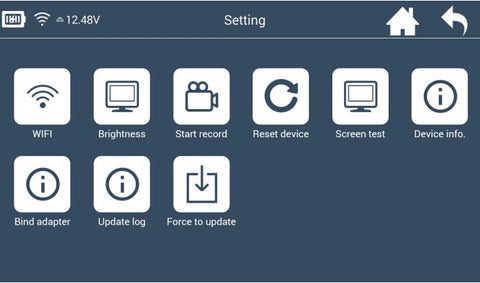 KPROG adapter must be bound to K518ISE before using :

Step 1. Connect adapter to K518ISE with mainline
Step 2. Connect K518ISE with 12V power supply
Step 3. Enter into "Setting"
Step 4. Click "Bind adapter"
Step 5. Click "OK" to complete

Note: The KPROG adapter is specialized for part of Volvo car series and the new Maserati for the time being,  more car models (like Jeep Grand Cherokee) is under developing, just check "One key update"for latest news.

Lonsdor K518ISE key programmer connecting the Kprog2 is able to read and write an eeprom soic chip/mcu chip. You can get data for backup or replacement.


 




Share