Cordless Electric Ratchet Wrench, 600 RPM 21V Power Ratchet Wrench Kit, Infinite Variable Speed, 2-Pack 6Ah Lithium-Ion Batteries
Regular price
Sale price
$119.00
Unit price
per
Sale
Sold out
Frequently bought together
180W AC 110V 3-1 Car Jump Starter+Car Inverter+Outdoor Power Car Ignition Inverter Outdoor Power Supply
Product Description
Electric ratchet wrench is a time-saving and labor-saving electric wrench which can be used in many scenarios such as automobile maintenance, truss construction, machine equipment disassembly and installation, stage construction, etc. Wherever you can put the wrench head, you can use this electric ratchet wrench.
Product Features:
【Wide Use】 Electric ratchet wrench can be used for automobile maintenance, truss construction, machine equipment disassembly and installation, stage construction, etc.
【Narrow Gaps】It can be applied to narrow gaps as long as the wrench head can be put in.
【Big Power】With 21v/6000mhA high power, high torque, it is a super strong ratchet wrench.
【Infinite Variable Speed】The fastest peak speed can reach 600RPM.
【Built-in LED & Ergonomic Handle】 Its built-in LED illuminates the work area. It is equipped with rubber that withstand corrosive materials and increase your comfort when using.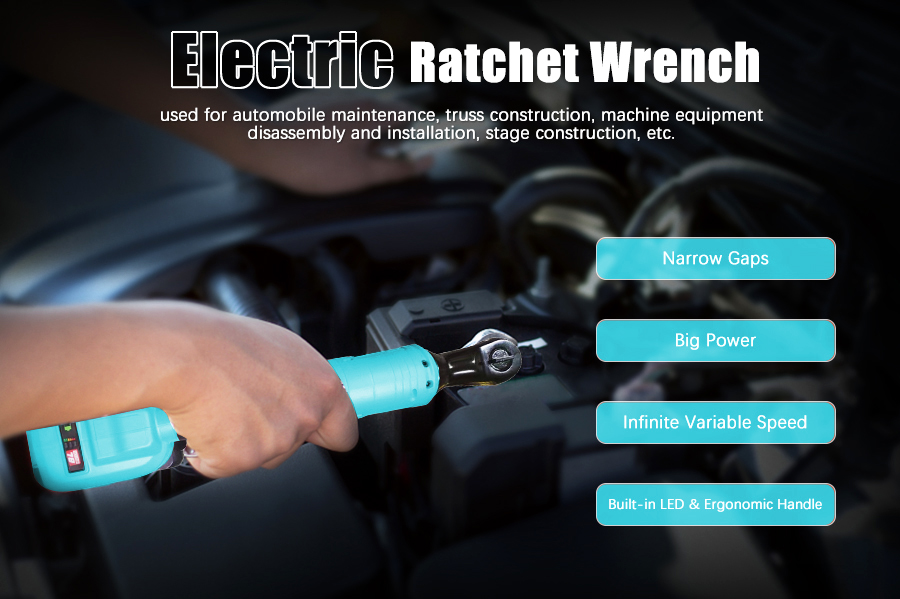 Product Functions:
The ratchet head can be easily and conveniently adjusted to the forward and reverse torsion direction, so it can be quickly switched to dismantle and tighten bolts/nuts.
The outer diameter of the ratchet head is 1/2 inch, which is suitable for working with sockets within 32MM.
The torque of the product reaches 60Nm, which is large, and the bolts/nuts can be disassembled and fastened easily with the great force.
Easy Operation:
1. According to the appropriate bolt/nut size, select the appropriate socket and fix it on the ratchet head.
2. Hold the ratchet wrench, cover the other end of the socket with the bolt/nut, press the switch, the pressing speed will change with the pressing force, toggle the paddle above the ratchet head to switch it for disassembling and tightening .
3. After use, pull out the battery, the ratchet head must be maintained with lubricating oil after it has been used for a period of time.
4. When the battery power is almost exhausted, connect the power adapter to charge, and be careful not to keep the battery in a state of deficit for a long time, so as not to affect the battery life.
Note:
The electric ratchet wrench is very convenient to use, but the ratchet has the maximum torsion and torque. If the bolt/nut cannot be disassembled or the desired tightening effect cannot be achieved during the process of disassembling and tightening the bolt/nut, it means that the work has been overloaded. Try to replace other tools, please do not force the electric ratchet wrench to work, and damage the internal structure and motor of the electric ratchet wrench. 
Product Specifications:
| | |
| --- | --- |
| Color | Black, blue |
| Capacity | 6000mAh |
| Voltage | 21v |
| Configuration | 2 batteries |
| Speed | 0-600RPM infinitely variable |
| Torsion |  60Nm |
| Ratchet head | 1/2 (1/2 inch, with large torsion, suitable for working with sockets within 32MM) |
| Packing size | 41*30*10cm |
| Packing weight | 2.9KG |
Package Includes:
1pc x electric ratchet wrench host
2pcs x batteries
1pc x tool kit
1pc x instruction manual
Share