Autel MaxiTPMS TBE200 Tire Brake Examiner 2022 Newest Laser Tire Tread Depth Brake Disc Wear 2-in-1 Tester Work with ITS600
Out of stock
Many in stock
Product Introduction:
Autel Maxi TPMS TBE200 is a laser tire tread depth and brake...
customers are viewing this product
Product Introduction:
Autel Maxi TPMS TBE200 is a laser tire tread depth and brake disc wear 2-in-1 tester, which can provide users with fast and accurate wear measurement(0.1 mm accuracy). It has a 1.65-inch AMOLED super retina touch screen, a 1-megapixel macro camera, and an 8-megapixel zoom camera to display the measurement data curve in real time. The TBE200 dual camera enables users to record tire wear and damage and scan the tire identification number (TIN).
Autel Maxi TPMS TBE200 has functions of scanning DOT, tire expiration notice, tire recall lookup, taking photos of tire wear and damage etc. With 1.65" Amoled super retina touchscreen, dual camera, real-time tire health/uneven wear analysis, full tread measurement, It supports almost all tire types, comprehensive test report (Need to work with ITS600).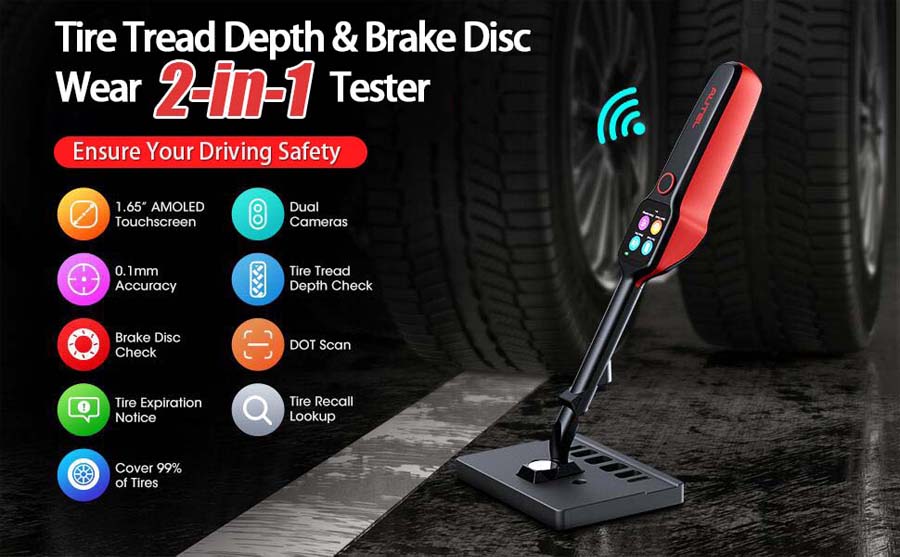 Product Features:
【TIRE TREAD DEPTH & BRAKE DISC WEAR TESTERS】Why choose TBE200? Autel MaxiTPMS TBE200 is not only a laser inspector with a measuring accuracy of 0.1 mm, but also can display measurements graphically. It is convenient for technicians and repair shops workers to measure tread depth/brake disc wear without removing wheels. TBE200 provides 4 possible results (Gray, Green, Yellow, Red) are represented to the degrees of tire wear/wear status, it offers accurate analysis to ensure your driving safety.
【REAL-TIME TIRE HEALTH ANALYSIS】Autel TBE200 tread depth reader provides wear analysis and displays the measurement data curves in real-time and service advice on its 1.65-inch high resolution super Retina touchscreen AMOLED. The full-color graphical display illustrates wear and provides service advice, including tire and brake disc replacement, tire rotation, and 4-wheel alignment. Adding scan DOT, tire expiration notice, tire recall lookup functions help you get the tire data easier.
【ENHANCING THE TBE200 WITH THE ITS600】The TBE200 will offer optimal performance when paired with the ITS600 TPMS tool(sold separately). When used with the ITS600, The TBE200 will take advantage of the ITS600's larger screen to collect tire tread and brake disc wear information, combine it with TPMS information from the ITS600 to produce comprehensive vehicle health reports that include detailed information for both service areas. These reports can be printed and presented or kept as records for the repairer.
【WIDE VEHICLE COVERAGE & ONE-YEAR WARRANTY 】Autel TBE200 TMPS tool not only supports 99% vehicle including passenger cars, off-roads and commercial vehicles, but also is compatible with almost all tire types (Goodyear, Continental, Bridgestone, Dunlop etc) on the market. TBE200 comes with one-year warranty and 100% risk-free purchases. TBE200 will be your best choice!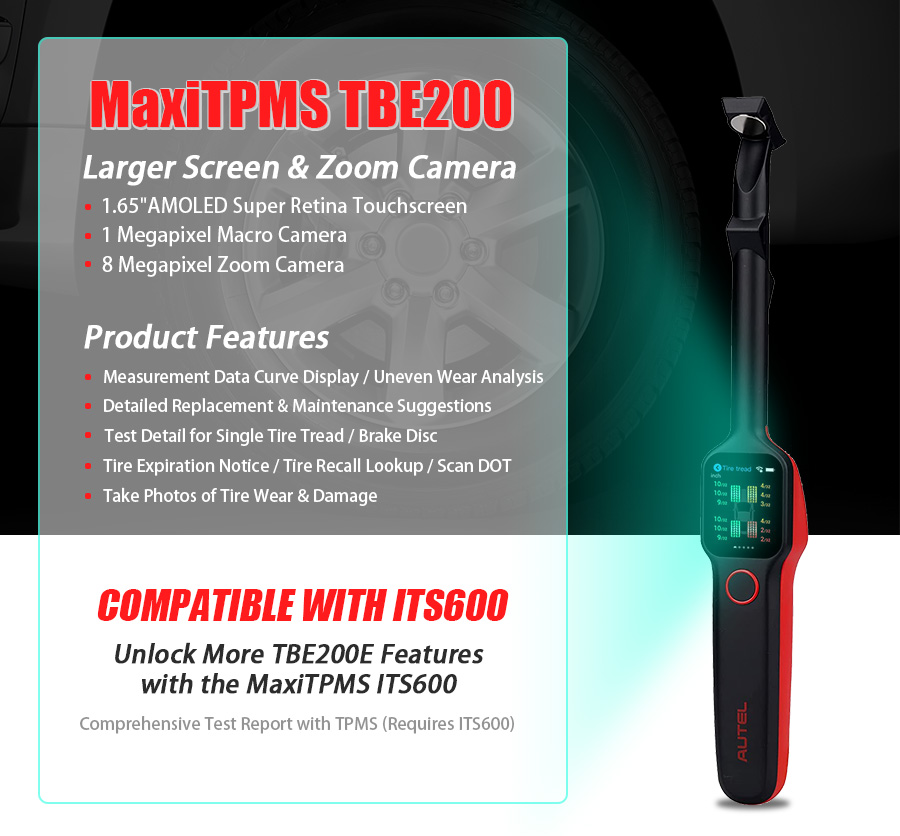 Product Functions:
Laser Measurement
Tire tread depth & brake disc wear check in one tool, no need to remove the wheel during measurement
Laser measurement with 0.1mm accuracy
Full tread measurement
Quick Check both tread depth & brake disc
Real-time Tire Health Analysis
Real-time measurement data on touchscreen
Measurement data curve display
Uneven wear analysis
Test detail for single tire tread / brake disc
Detailed replacement & maintenance suggestions (tire/brake disc replacement, tire rotation/alignment servicing)
Scan DOT, tire expiration notice, tire recall lookup
Take photos of tire wear & damage
Comprehensive Test Report
Comprehensive Test Report: TPMS health, Tire tread depth & brake disc wear characteristics & Repair tips (Requires ITS600)
Easy to Use QR Code Report Download & Sharing
Generate QR codes for tire tread depth and brake disc measurements to allow for easy report sharing & downloading via mobile phones or tablets.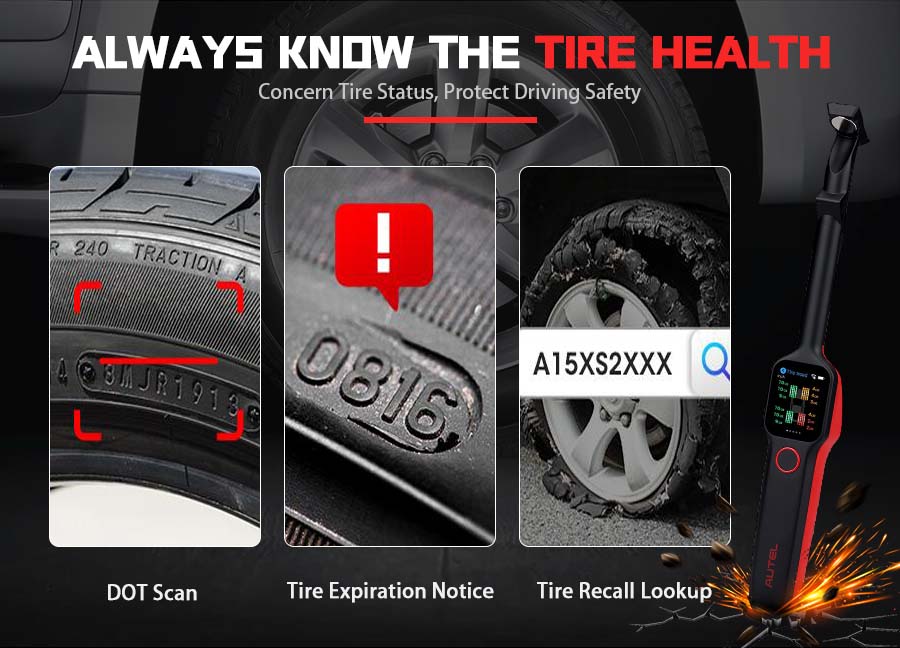 Product Comparison Between Autel Maxi TPMS TBE200 and Autel Maxi TPMS TBE100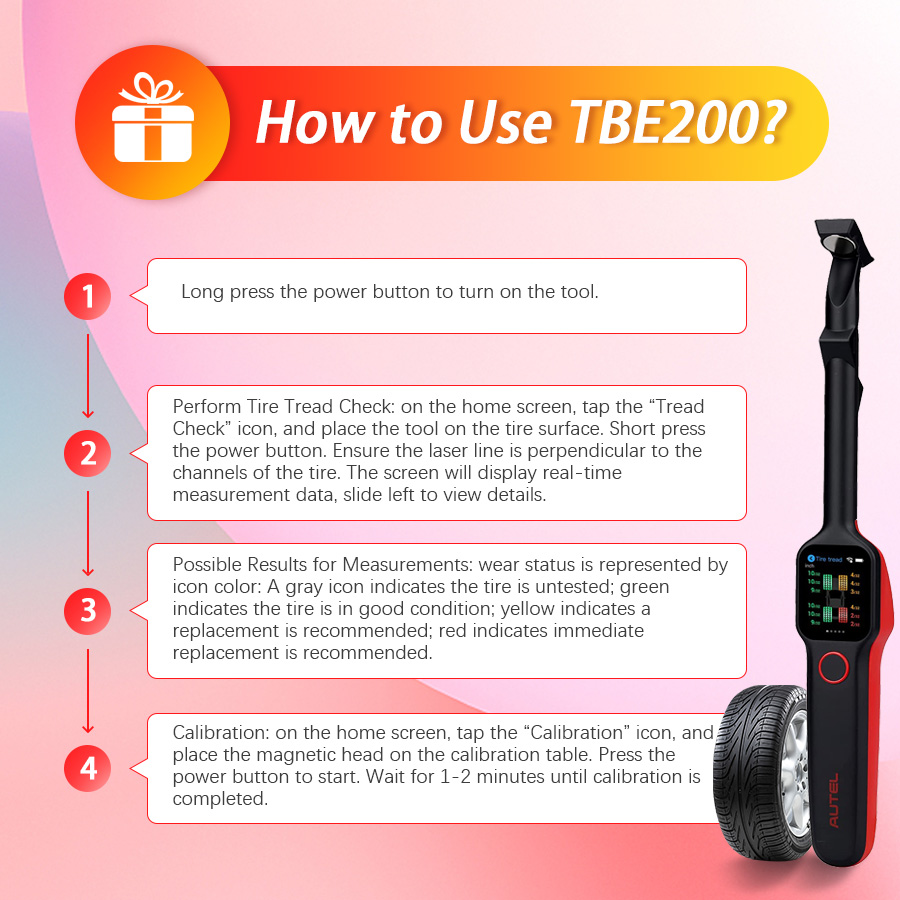 Product Specifications:
Recommended Use
Indoor
Processor
4x ARM Cortex-A35 (1.5 GHz)
Memory
1GB RAM LPDDR3 & 4GB ROM
Display
1.65-inch AMOLED capacitive touchscreen with 348×442 resolution
Connectivity
• Wi-Fi
• USB 2.0, Type C
Camera
CMOS WXGA, 1 megapixel & 8 megapixel, 30fps
Audio output
Output: Beep
Power and Battery
• 3.7 V/3000 mAh 18650 lithium-ion battery
• Charges via 5 V AC/DC power supply
Tested Battery Life
Around 8 hours of continuous use
Battery Charging Input
5 V/1.5 A
Power Consumption
300 mA (AMOLED on with default brightness) @3.7 V
Operating Temp.
-10 to 45°C(14 to 113°F)
Storage Temp.
-20 to 60°C (-4 to 140°F)
Dimensions (W x H x D)
283.0 mm (11.14") x 39.0 mm (1.54") x 33.5 mm (1.32")
Net Weight
188 g (0.41 lb.)

Package Includes:
1pc x Main unit
1pc x Calibration table
1pc x Power adapter
1pc x Type C USB cable
1pc x Quick reference Guide
1pc x Carrying Case
Please make sure that you follow below steps:
1/ Download the package from themeforest.net (the file is in zip format)

2/ Extract the file you've just downloaded.

3/ Find this file: ella-3.0.0-sections-ready.zip in the folder Ella Sections Ready 3.0.0, then you just need to upload ella-3.0.0-sections-ready.zip file to your Shopify store.

To save your time and reach our support quickly, please follow below steps:
1/ Create a staff account for us (with Themes permission and Settings permission) http://docs.shopify.com/manual/settings/account/staff-members
2/ Capture screenshot or video for the issue you get.
3/ Specify which template and version you are using.
4/ Describe clearly how to reproduce the issue.
5/ Send all information (staff account, screenshot, video, template name and version, description of the issues, link) to support@halothemes.com
Yes, we will assist you to install the template if needed
Yes, we do. Please send your customisation requests to support@halothemes.com, we will give you our quote. Thank you.
Yes. You can turn on/off the animation in the Setting page.
Yes. You can turn on/off almost any blocks on the page (featured products, slideshow, banners, related products, recent products,...).
Yes, we have a setting for you to switch between these two options: Display on Hover and Display on Click.
The theme package includes theme source, Photoshop design files, sample data and manual guide.
That is not a problem. You just need to modify the width/height ratio in theme settings.
is added to your shopping cart.