[EU US UK Ship] Wifi Autel MaxiIM IM508 Key Programmer No IP Limit Replaces Auro IM100 Supports AU Ford Holden Online Update
Regular price
$999.00
Sale price
$949.00
Unit price
per
Sale
Sold out
Product Description
Autel MaxiIM IM508 is a fast, easy-to-use, and ultraportable immobilizer and key programming device. IM508 is capable of providing extraordinary service functions for the immobilizer system. Together with the ability to quickly diagnose all modules of the majority of the makes and models on the market, IM508 provides you with superior special functions. IM508 is the perfect solution for shops and technicians who demand affordable and powerful IMMO and diagnostic services.
Autel MaxiIM IM508 Highlights:
•Global Version No IP Blocking Problem
•1 Year Free Oline Update,After one year it will cost $350 only. Check Autel MaxiIM IM508 One Year Update Service
•Powerful combination of key programming/all system diagnostics/advanced maintenance services
•Smart Mode for guided and automated key learning
•Expert Mode for advanced key learning
•Read PIN/CS (all key lost) , key generation, key learning, remote learning
•IMMO ECU reset/adaptation, refresh/coding
•Transpronder read/write, EEPROM/MCU read/write
•Powerful OE level diagnostics for more than 80 US, Asian and European makes and models
•Advanced maintenance services including EPB, DPF, SAS, Oil reset, BMS and TPMS sensor ID relearn
Comprehensive IMMO & Key Chip Programming:
Autel IM508 key programmer can perform: Read PIN/CS(All Key Lost), key generation, key learning, remote learning on Benz FEM/BDC Key Learning/ECU Adaptation, BMW CAS3/2 Key Learning, VW/Audi/Skoda/Seat IMMO III/IV/V Add Key, All Key Lost, IMMO ECU reset/adaptation/refresh/coding, Transpronder read & write, EEPROM/MCU read & write.
Autel MaxiIM IM508 comes with XP200 Key and Chip Programmer, If you need more powerful immo function such as BMW CAS4,Benz 3rd Generation IMMO, BMW CAS4 Key Learning and VW/Audi MQB(VDD & JCI) Add Key, IMMO V A4/A5/Q5 2015+ Key Learning. You can extra buy  XP400 Pro or buy Autel IM508 with XP400Pro bundle deal directly. With XP400 Pro, Autel IM508 has same IMMO Funtion as IM608 Pro.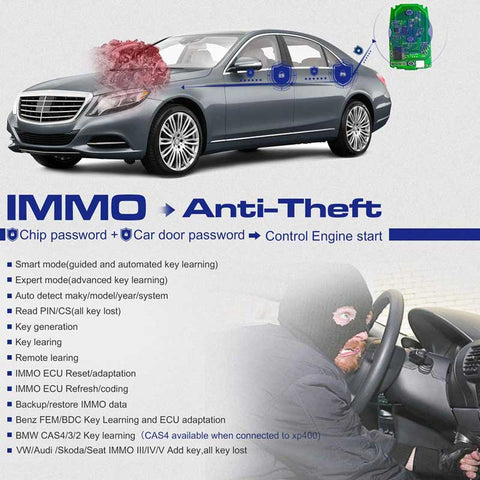 OE-Level All Modules Diagnosis:
1 Year Free Software Updates:
IM508 Key Programmer Scan Tool comes with 12 Months Free Software Updates and is backed by 45 Day Money Back Guarantee and 12 Months Seller Warranty. Place your risk-free purchase now and start protecting your cars from being stolen! IM508 Subscription 350 USD/year after the free update.

SAS Service:
Steering Angle Sensor Calibration permanently stores the current steering wheel position as the straight-ahead position in the steering angle sensor EEPROM.
Therefore, the front wheels and the steering wheel must be set exactly to the straight-ahead position before calibration.

TPMS Service:
This function allows you to quickly look up the tire sensor IDs from the vehicle's ECU, as well as to perform TPMS replacement and sensor test.

BMS Service:
The BMS (Battery Management System) allows IM508 to evaluate the battery charge state, monitor the close-circuit current, register the battery replacement and activate the rest state of the vehicle.

DPF Service:
This function is used to manage DPF regeneration, DPF component replacement teach-in and DPF teach-in after replacing the engine control unit.

OE-Level All Systems Diagnosis
Autel IM508 Car Scanner can perform OE-Level diagnosis on all car electronic systems like ABS, SRS, Engine, Transmission and etc and show live data of multiple sensors.
Compatible with more than 80 American, Asian and European makes and models.

Auto Scan Technology
Autel IM508 professional OBD2 scanner comes with Auto Scan function that performs a comprehensive scanning over all the ECUs in the vehicle to locate systems faults and retrieve DTCs for efficient diagnosis.

Live Data & Review Freeze Frame Data
IM508 car diagnostic scanner reads codes, show live data of multiple sensors in or graph or text, clears codes. The Review Data section allows you to playback the recorded data frames of live data streams.

Remote Technical Support
Remote Desk application launches the TeamViewer Quick Support program, which is a simple, fast and secure remote control screen. You can use the application to receive ad-hoc remote support from Autel tech support center, colleagues, or friends, by allowing them to control your MaxiIM tablet on their PC via the TeamViewer software.

XP200 Key & Chip Programmer:
XP200, no vehicle connection is required.This application can access the key chip,read retrieve and write key information.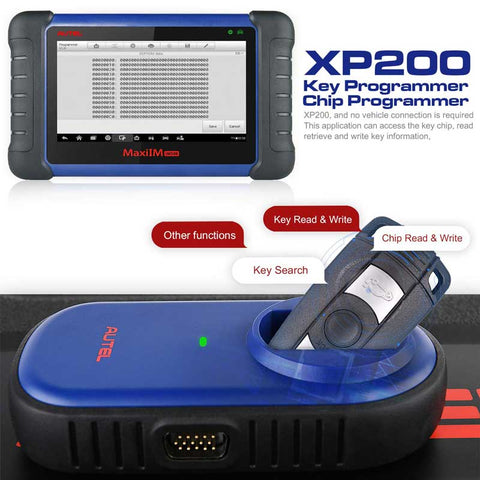 Autel MaxiIM IM508 Package List:
MaxiIM IM508 Tablet
XP200 Key Programmer
AAC001–MED17 Cable
Honda-3 Adaptor
KIA-20 Adaptor
KIA-10 Adaptor
Mazda-17 Adaptor
USB External Power Adapter
Carrying Case
Main cable
Quick guide
Mini USB Cable
Carry Case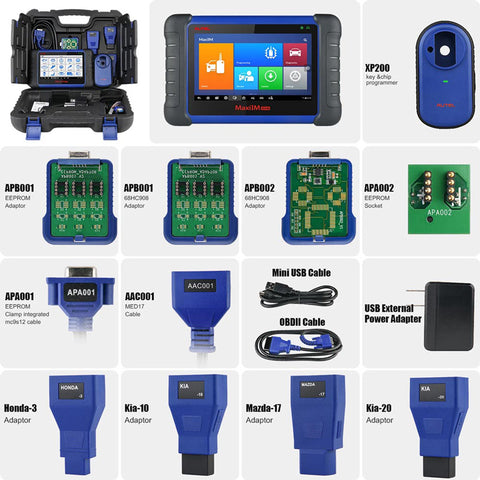 Share