2022 Original V1.21 PCMtuner ECU Chip Tuning Tool with 67 Software Modules Free Online Update Pinout Diagram with Free Damaos for Users
Regular price
$499.00
Sale price
$449.00
Unit price
per
Sale
Sold out
Product Description

Read and write ECU data through OBD, BENCH, and BOOT modes.
Performs a complete backup of ECU data, easy ECUs clones, and power upgrades.
Provide customers stage1 stage2 stage3, pop bands ,gearbox data to adjust LC, sports display, immo off, adblue off, dpf off, dtc off, vmax, swirl off, restoring ECU.
Newly Added 44 new protocols, Bosch ECU Read and Write without opening the shell
V1.25 PCMtuner ECU Programmer with 67 Modules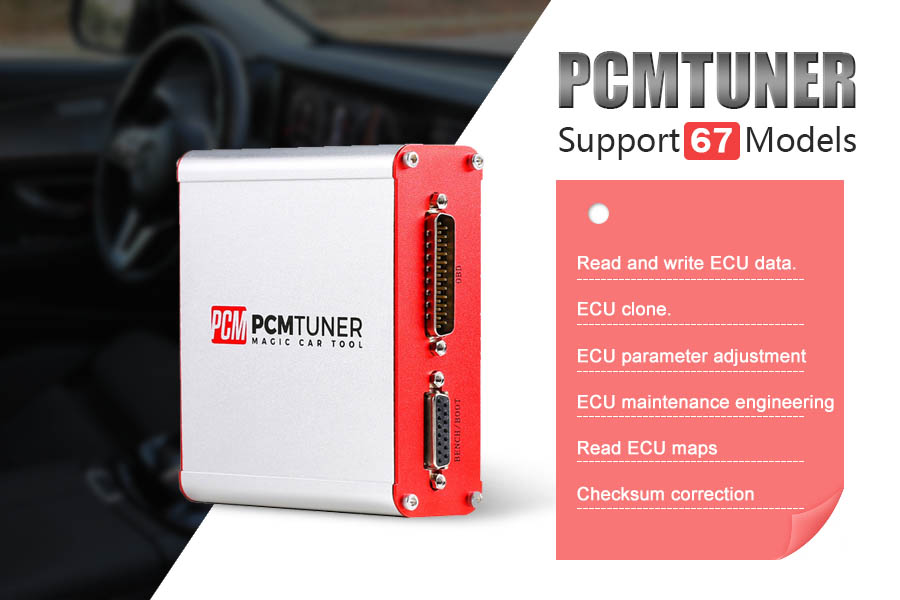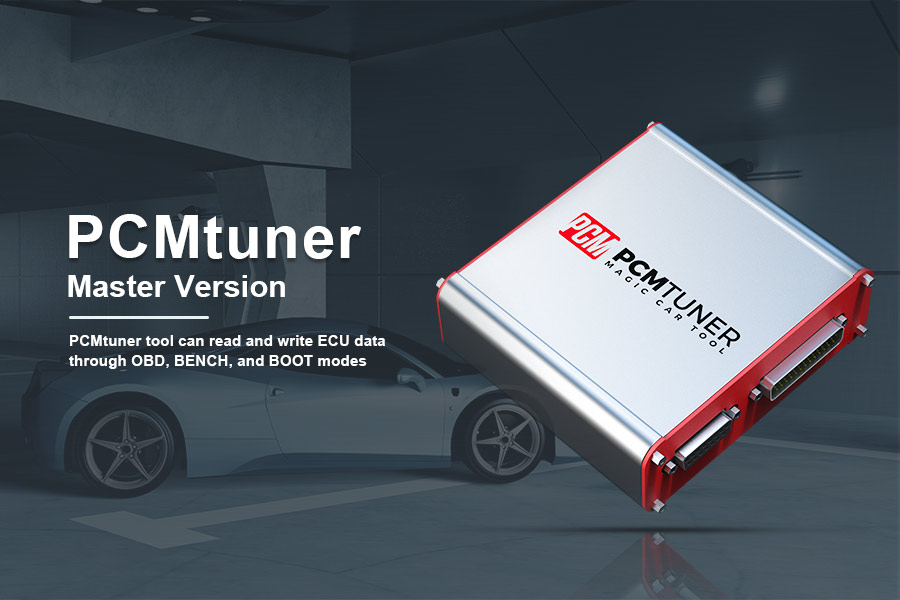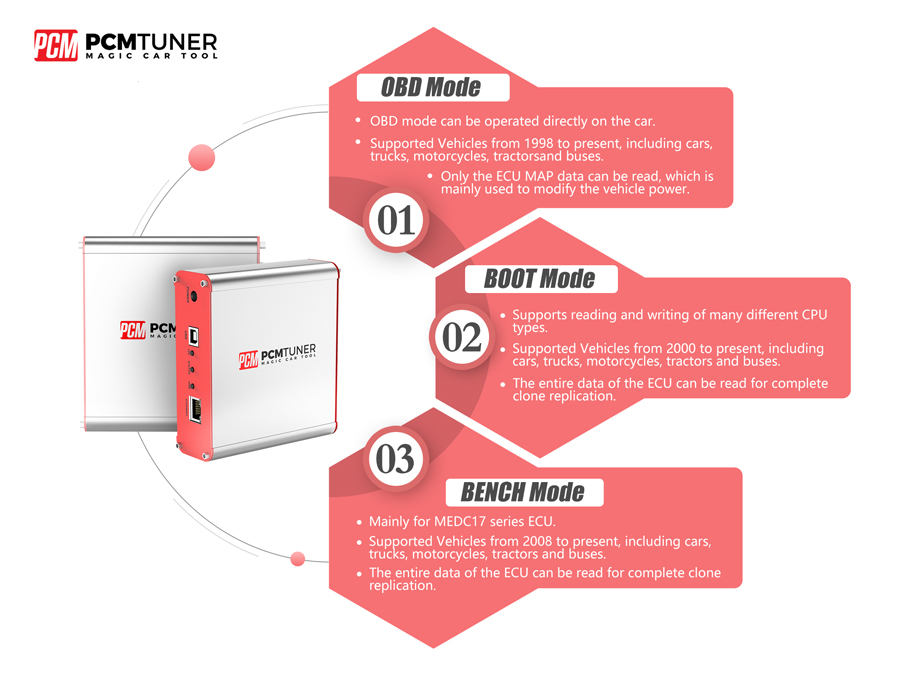 Do not use your own power supply casually, it is easy to burn the triode
PCMtuner Highlights:

1. Read and write ECU data through OBD, BENCH, and BOOT modes.
PCMtuner performs a complete backup of ECU data, easy ECUs clones, and  power upgrades. It can also support read and write gearboxes.
According to the data read out via PCMtuner tool, our engineers can provide customers stage1 stage2 stage3, popbangs ,gearbox data to adjust LC, sport display, immo off, adblue off, dpf off, dtc off, vmax, swirl off, restoring ECU or TCU factory setting service (paid service).
 
2. Compared to V1.20, PCMtuner has add 44 new protocols ,Bosch ECU read/write protocols without opening the cover.
 
3. Master Version, save data in bin format, data not encrypted.

4. PCMtuner software allows you to forcibly write (forcibly clone) without verification,
And supports forcibly reading and writing unknown ECUs with supported chip models.
 
5. PCMtuner provides VR files for all legal users and Helpdesk supplies free Damaos for tuner 
Free WinOLS damaos, A2L, MAPPACKGE and VR files.
Moreover, we can offer you a platform to work with our high level tuners, from whom you may learn a lot.

6. Free Update, No Annual Subsription Fee.

7. Good Manual, updated regularly online for long time

Notice:
● Please use the software in our default package only, otherwise PCMtuner may get locked and damaged, which we won't take responsibility in this situation.
● Strongly recommend installing PCMtuner on Windows 10 to get the best performance. 
● Please don't change the laptop frequently. It will be required to unbind the registered email first then re-register and re-activate if you have to.
● PCMtuner team are working on MD1 and MG1 which will release free soon. 
● We have tested PCMTuner as J2534 Passthru for Techstream. You are free to test with Ford ids, Bmw ista, VW odis etc. It is a bonus feature. We are not responsible for the damage.

Do not use your own power supply casually, it is easy to burn the triode

How to Activate PCMtuner and Get VR Account?

1. When you get the item, please download software and follow the PCMtuner installation video to Install it.
PCMtuner Software Download
2. After installation, it will ask"Do you want to Register this device", please click "Yes", then follow the prompts information to register it
3. After registration, please send us the email which you plan to register the device, we will help you to generate the account in server.
We Will Generate 2 User Accounts for You: https://support.vz-performance.com:
User Name and Passwork are both your email.
This account will be used for tuner support. It has VR file and many damaos there.
https://www.tuner-box.com:
User Name will be your registered Email and Password we will send you once it's activated. This account wil be used for checking the support list of PCMtuner, creating ticket support tool user etc.
What Can We do When We Have Tuner Account?

PCMtuner Functions:
1. Read and write ECU data
2. ECU clone
3. ECU parameter adjustment
4. ECU maintenance engineering
5. Chip turing
6. Read ECU maps
7. Checksum correction
8. Stage1-3, gearbox tuning , LC, sportdisplay , immo off, adblue off, dpf off, dtc off ,vmax ,swirl off (Paid Service)
9. Read flash and ep files
10. Powertrain adjustment
11. Support online update
12. VR files supply 
13. Pinout comewith
14. Helpdesk and tuner account 
15. OBD2 reading
16. Cover-free wielding-free no disassembly data reading, greatly reduce the risk of destroying the ECU, bench mode.
17. Cover-opening data reading, boot mode
18. 2-year Warranty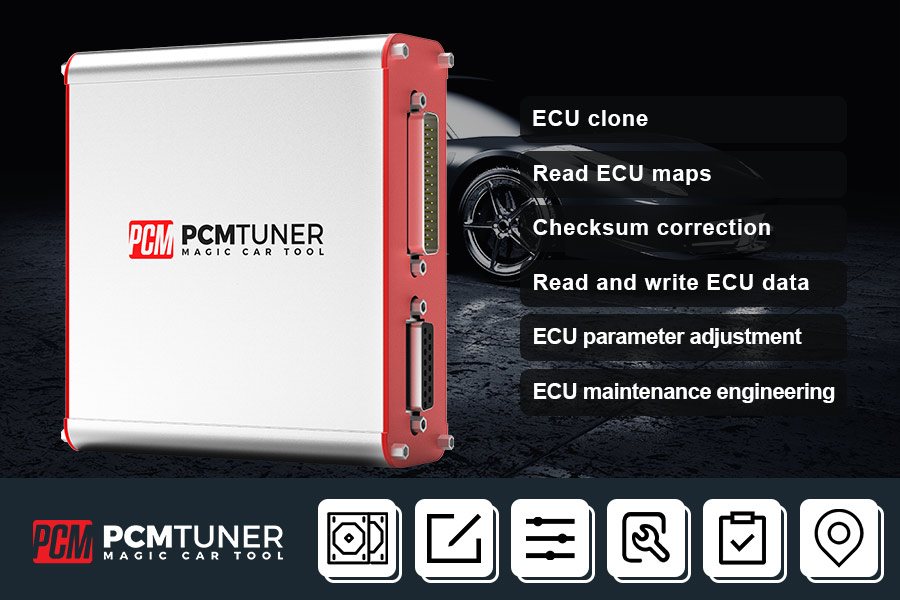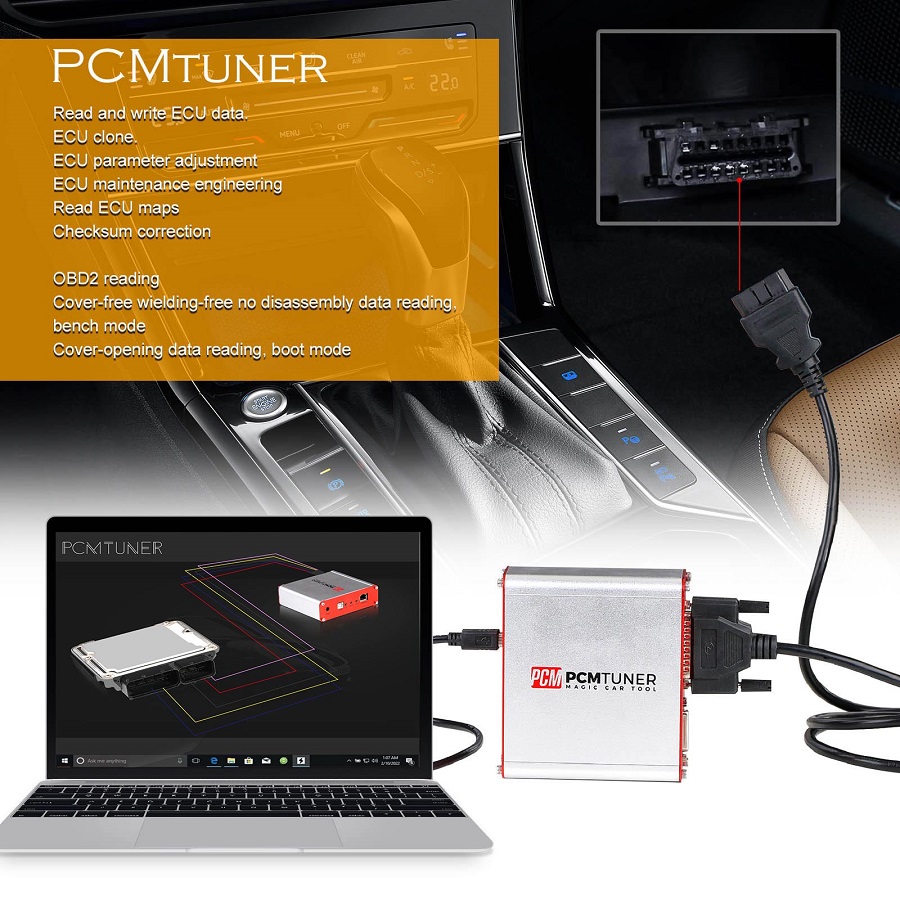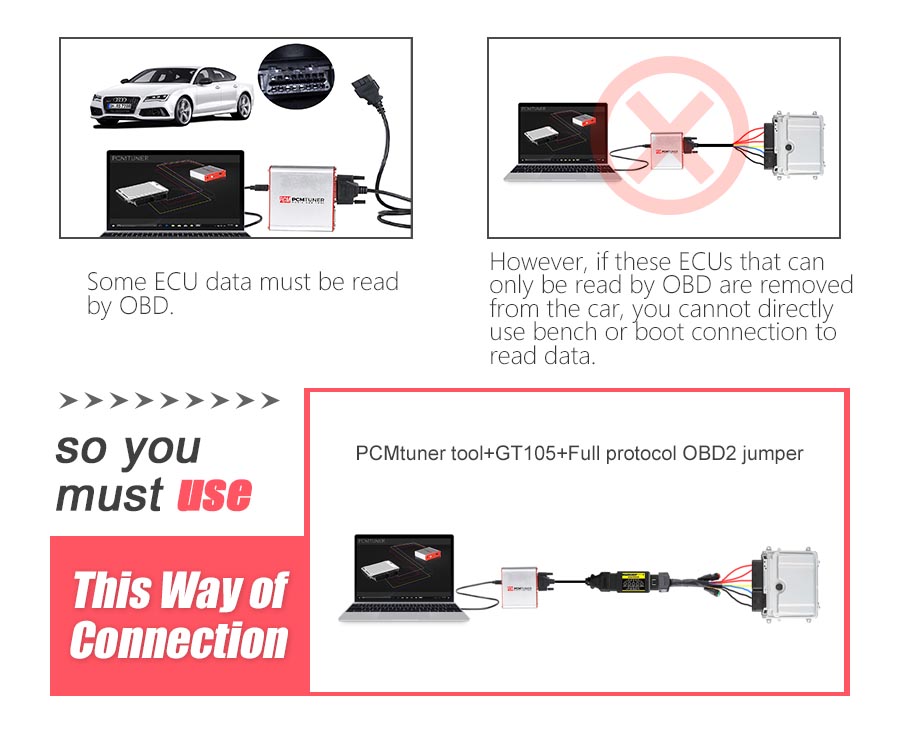 PCMTuner Software Display:


Package Includes:

1pc x PCMtuner Master Interface
1pc x PCMtuner Dongle
1pc x BENCH/BOOT Cable
1pc x  OBD Cable
1pc x  Power Adapter
1pc x  USB Cable
1pc x Carton Box
The black rubber sleeve of the host needs to be purchased additionally
Share