April Sale [US/EU/UK in Stock] XHORSE VVDI KEY TOOL PLUS Key Programmer Advanced Version Supports Benz BMW VW AUDI All in 1
Regular price
$2,199.00
Sale price
$2,099.00
Unit price
per
Sale
Sold out
Frequently bought together
Xhorse All Key Lost Cable For Ford Work with Key Tool Plus Pad
Product Description

    1.Red one is for China Market, Orange one is global version.
    2.Combines functions of VVD2, VVDIMB, Key Tool Max, VVDI BIM, and VVDI PROG with the ability to expand the capabilities as needed.

XHORSE KEY TOOL PLUS Pad Key Programmer Supports BENZ BMW VW AUDI All in 1
Why do you buy KEY TOOL PLUS PAD from HOBDII ?

    Xhorse official authorized dealer
    1 Year Warranty
    Advanced Version
1 Token for Xhorse 96 Bit ID48 Copy Suitable for VVDI2,VVDI Mini Key Tool, VVDI Key Tool Max and Key Tool Plus Pad vw audi


XHORSE KEY TOOL PLUS Features:

1. Support transponder copying/clone
2. Identify almost transponder in market
3. Support re-programming almost transponder in market
4. New remote re-generating/new remote making
5. Multi-language: Chinese  English  French  Spanish  Portuguese 

The most advanced application processor of KEY TOOL PLUS, with integrated Bluetooth, FM, WLAN, and GPS modules, is a highly integrated baseband platform incorporating both modem and application processing subsystems to enable the best and most convenient connectivity solution. With this super processor, the enhanced overall quality is achieved for simultaneous voice, data, and audio/video transmission on the device.

Xhorse Key Tool Plus User Manual

New Update:  Add Remote Online-cloud Recognition function (Feb. 2021)


POWERFUL BASIC FUNCTIONS

Generate Remotes and Smart keys

Renew (unlock) remotes

Remotes clone

Program and Immo Transponder

IC/ID Clone

Frequency Detection

Transponder detection, clone, and generating

Support for Jaguar, Land Rover, Porsche, Volvo, Mitsubishi, and others

Service light reset

Key cutting machine control

Common vehicle IMMO programming

BUILT-IN OTHER FUNCTIONS:

DOIP
CAN-FD
CAN and K protocol switch pin
Chip pin detection
Long distance IMMO collection
Built-in OBD matrix switch
Radiofrequency simulator
Smart key simulator
Integrated key identification coil
BENZ infrared reading head

WE PROVIDE AN ALL-IN-ONE AUTOMOTIVE SOLUTION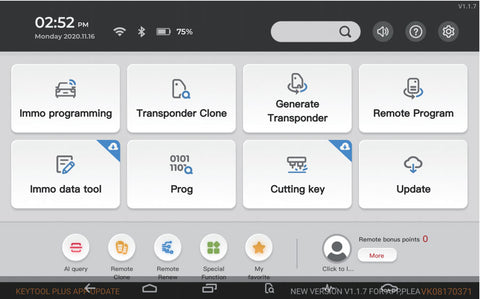 WE MAKE IT FIT FOR MORE LUXURY CAR BRANDS Support IMMO programming on luxury car brands - Benz, BMW, Audi, VW and common car brands - Toyota, Honda, Mazda, Ford, etc.

IMMO Programming for European vehicles:
VW & Audi:
3rd/4th/5th generation
MQB
MED17/EDC17

BMW:
CAS3/CAS3+
CAS4/CAS4+
FEM/BDC
ECU ISN Reading Function

BENZ:
FBS3 standard keys and FBS3 keyless-go keys
Smart keys, all keys lost, add keys, enable & disable keys
EIS/EZS, ELV, ECU, gearbox, and ISM replacement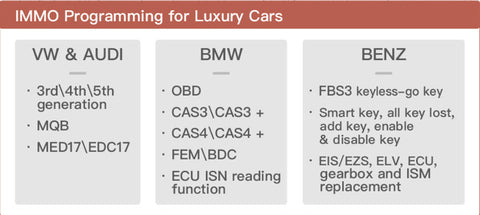 KEY TOOL PLUS supports over 20,000 car models worldwide. We can select the car brands and car models on the immo programming interface. On this smart platform, we can easily find the car models we need by brand area, brand name, and A-Z word search.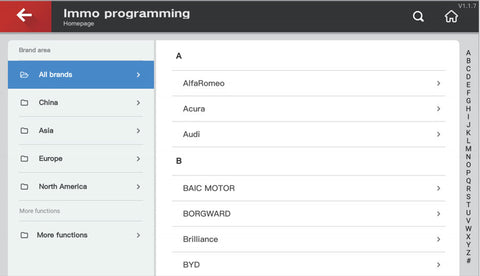 WE INCORPORATE PROG FUNCTION
KEY TOOL PLUS  supports reading and writing common modules and chips. It covers "EEPROM and FLASH", "IMMO", "Instrument", "Airbag", and "ECU", etc.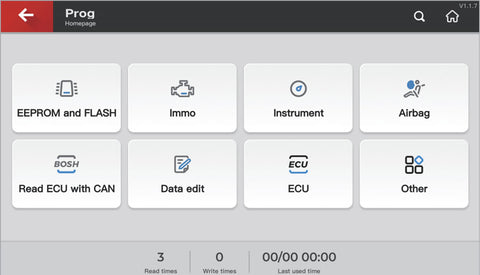 Note: To complete certain functions, users need to connect KEY TOOL PLUS to the specific adapters and get the required model prompt on the interface. The function is only effective on the advanced edition.)

WHAT WE CAN COMPLETE BY PROG FUNCTION ON KEY TOOL PLUS?

Support EEPROM reading and writing: support reading & writing most types of transponders in the market.
Support BMW immo module programming covering CAS3, CAS3+, CAS4, CAS4+, BDC, FRM, and FEM.
Support Land Rover RFA module reading and immo programming.
Support Porsche BCM programming.
Support read ECU with CAN on AUDI, BMW, and VOLKSWAGEN.
Support Instrument programming on HONDA, KIA, and HYUNDAI.
 

WE IMPROVE THE IMMO DATA TOOL (FILE MAKE KEY)

Key programming and certain settings can't be finished via OBD port on some car models due to their immobilizer protection system. Through a professional programming method - FILE MAKE KEY, the problem can be easily solved.

[ File make key, to generate a car key via a data file. Users need to use the specific device to read the immo data, and generate a boot transponder to directly start the car, no need to match the original car.(Users may need to rewrite the data to the immo box when doing the programming process on some car models.) ]

KEY TOOL PLUS supports File Make Key function for common car models and motorcycles. we can easily find the car models we need by brand area, brand name, and A-Z word search.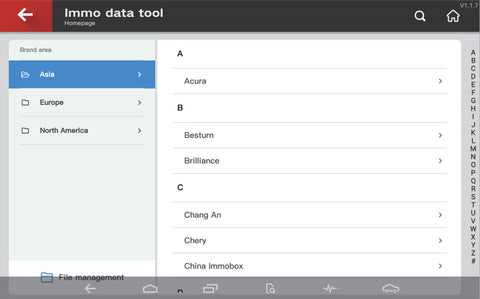 WE "LIBERATE" YOUR APPLICATION PROGRAM INTERFACE

[CONTROL KEY CUTTING MACHINES DEVELOPED BY XHORSE]
KEY TOOL PLUS is available to control the key cutting machines(CONDOR, DOLPHIN, and PANDA), to perfectly work as an operation screen. By using KEY TOOL PLUS, completely free your mobile phones.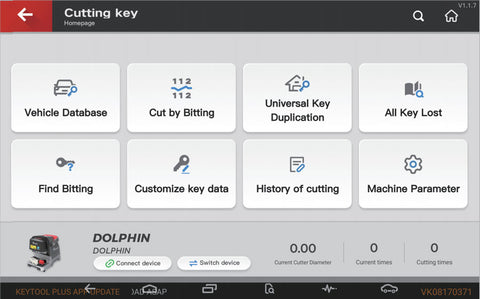 PAREMETERS

CPU: 8-core 2GHz
RAM+ROM: 4G+128G
Operation System: Android 9.0
Screen Size: 10.1" HD Anti-glare; Anti-fingerprint  
Rear HD Camera: 13.0MP
Battery Capacity: 10000mAh
Charging: 30W Super Fast Charge
Bluetooth: 5.0 Bluetooth
WIFI: 2.4G/5G
Light sensor: detect the brightness in the surrounding environment

Detection coil (including 125K low, 13.56M Medium, 300-900M high frequency)

    Support reading, writing, and cloning common immo transponders
     Support reading common ID transponders
     Support reading common IC transponders
     Support frequency detection of common vehicle remotes

Immo transponder placement hole for vehicle immo transponders

USB charging port:  support standard fast charge adapter and standard Type-C port DC-5V input.

PS2 port for remote programming

DB15 port: support standard & optional programming adapters with DB15 port

DB25 port for OBD matching

Benz Infrared (IR) port: support IR read Benz FBS3 & FBS4 smart key and support Benz IR reader
 
Package includes:
 
KEY TOOL PLUS (Orange)
User Manual    
Certification and warranty card    
Charger
USB3.0 TYPE-C cable
OBD_DB25 cable
OBD_KlA_10 connector    
OBD_KIA_20 connector
0BD Honda 3 connector
Remote_PS2 programming cable
Transponder box
Prog_DBI5_15 cable
Prog EEPROM adapter
Benz IR adapter
Benz NEC1 adapter
Benz NEC2 adapter
Benz NEC3 adapter
Benz power adapter
9S12xE cable
MCU cable

Optional solder free adapter full set for VOLVO(KVM), BMW(CAS4), PORSCHE(BCM), LANDROVER(KVM).
Share